Amazon Echo Show
Price

Installation

Design

Interface

Warranty
Summary
Echo Show is the best virtual assistant with video and camera. An industry pioneer for the year 2017.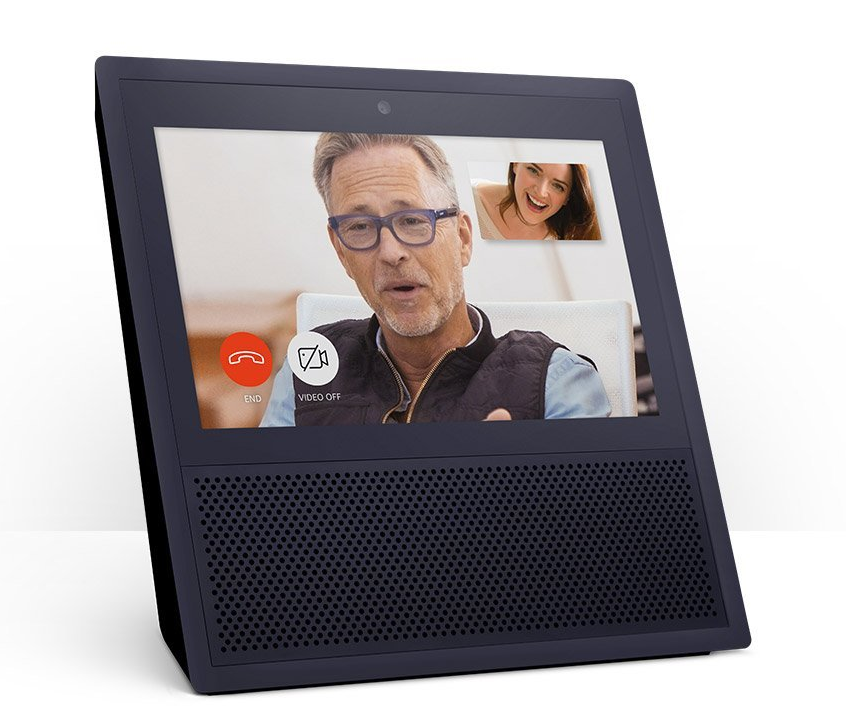 Amazon finally announced the release of their latest Echo product, Amazon Echo Show. You will find info for new consumers and old consumers in our Amazon Echo Show Review. We have been talking about the need for a home automation product with a screen for years. There are other products from smaller companies(Nucleus) doing exactly the same thing but nothing from the big companies that we can trust for a long time support. We finally got our wish with the recent release of Amazon Echo Show. If you are new to Amazon Echo products keep reading the next section, or if you already have an Echo product, skip to What's new with Echo Show.
UPDATE: Limited time offer "Buy 2 Echo Show devices, Save $100.  Place two or more Echo Show devices in your cart and receive $100 off your order with code SHOW2PACK"
What is Amazon Echo Show

Simply put, Amazon Echo Show is a device to connect to the voice-controlled service called Alexa. Alexa is a virtual assistant program that can do any skill that you allow it to do. These skills can be anything from opening the windows(if automated) to dim the light in the living room. You can ask simple tasks to do, and Alexa will do them if it has the skills loaded. Alexa comes with a lot of skills already installed but you can add much more using the Alexa skills marketplace. How many different skills currently available? Well, Alexa skills passed twelve thousand according to Amazon developer blog.  That's more than you will ever need in a lifetime.
You can also ask questions to Alexa, for example, "Show me videos about How to tie shoelaces". Alexa will show you a list of videos about the subject. You can then ask Alexa to play one of the videos.
You can do anything you can do with your computer and over the internet, like shopping with your voice or listening to the news. "You can ask Alexa to show you the front door or monitor the baby's room with compatible cameras from Ring and Arlo. Turn on lights, control thermostats and more with WeMo, Philips Hue, Ecobee4, and other compatible smart home devices."
What's new with Echo Show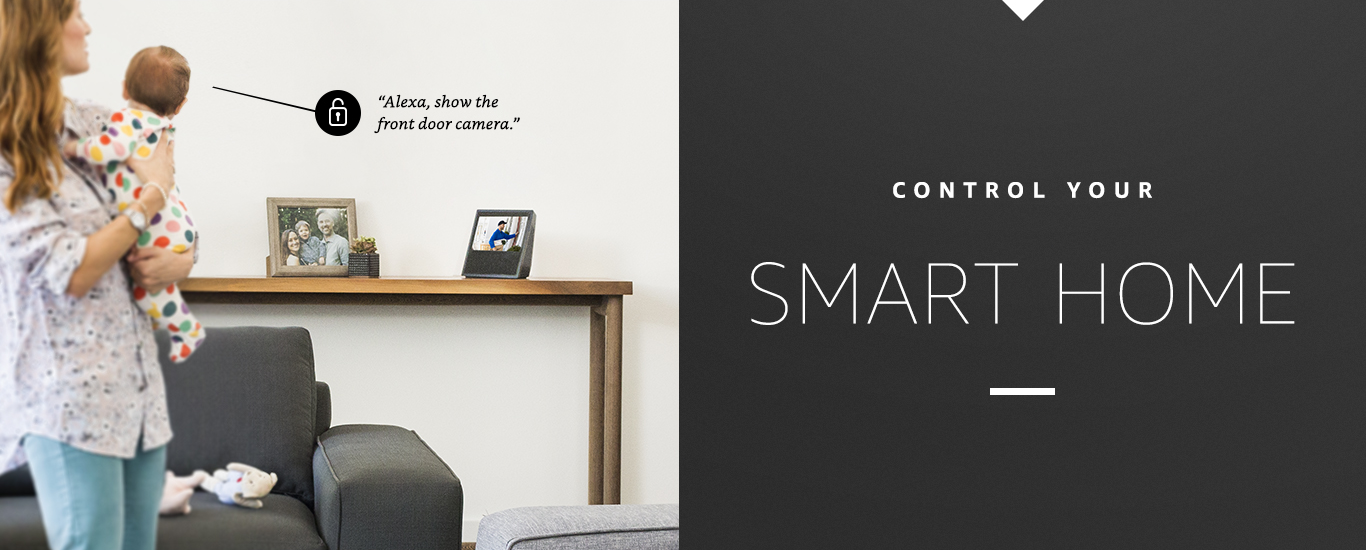 There is a big list of new benefits of skills that come with new Amazon Echo Show, but they all boil down to two main additions to the Echo devices. The video screen and the new speakers are the main hardware additions to the device.
Video Capabilities, Screen, and Camera
First, the new Video capabilities that come with a five-megapixel camera and seven-inch screen,  All the skills that that used to work with Alexa Echo dot get augmented by the fact of having a camera and screen in the device.  According to developers blog post.
"Echo Show includes updated skills from Allrecipes, Jeopardy, Uber, OpenTable, CNN, and more, as well as new smart home camera integrations from Ring and Arlo. Here's what they are doing:
Allrecipes shows customers recipe photographs and videos to help them prepare a meal, along with recipe search and filtering.
Jeopardy! engages players by enabling them to view the clues and answers on Echo Show.
Uber introduces trip details on the screen.
OpenTable gives customers a visual confirmation of their reservation including table size and time.
CNN allows customers to watch CNN video briefings that are updated every hour.
Ring and Arlo offer compatible cameras that can show you the front door or monitor the baby's room."

Alexa can have access to  YouTube, see music lyrics, security cameras, photos, weather forecasts, to-do and shopping lists, and more hands-free. You can now make voice calls to your loved ones, or use the video call feature as a video monitoring device for kids or elderly. 
Sound Capabilities, New better speakers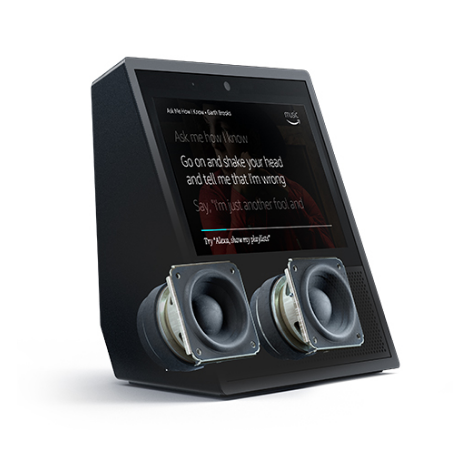 The new speakers are bigger than other models, its 2-inch double speaker with Dolby processing. The quality is much cleaner while listening to  Amazon Music, Pandora, Spotify, TuneIn, iHeartRadio, and more. You can see lyrics on the screen while you listen to songs for some karaoke action at home. 

We really liked the bass response of the new speakers. Another big improvement we noticed is that the new Echo Show can hear you from any direction thanks to eight microphones while music or video playing. It has it own noise cancellation technology, beam-forming tech solves one of the biggest problems of other Smart hub devices with speakers.
Technical Details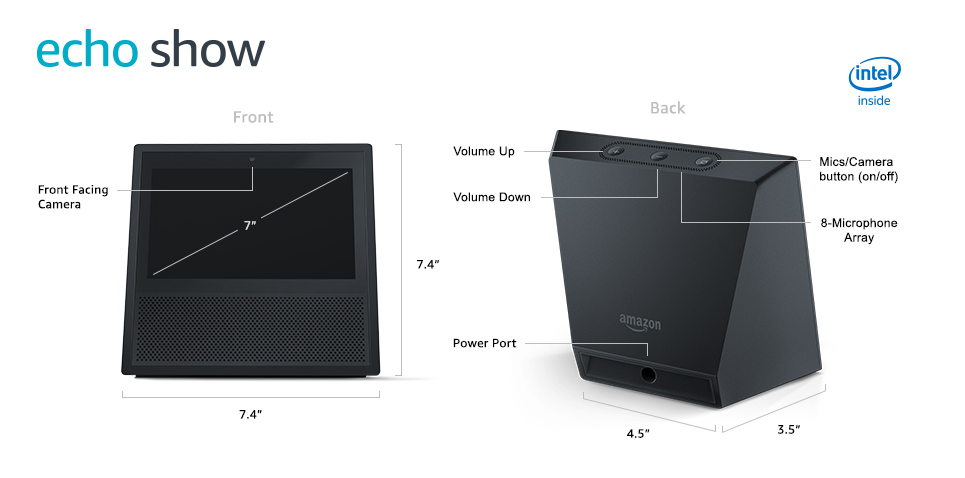 It's an average size gadget with 7.4" x 7.4" x 3.5" dimensions. It's very light with 41 oz., can be carried around by anybody. It's very easy to install just like other Amazon Echo devices. The screen resolution is good but I could be much better for a device that's coming out in in the middle of 2017. 7-inch display size could be bigger but when you compare to other devices in the market it's about average. 5 Megapixel camera is on par with iPhone 6S front facing camera. In other words, it's great. It comes with Dual 2 inch stereo speakers. It works with Alexa App, meaning it is compatible with Fire OS, Android, and iOS devices. It has an Intel Atom x5-Z8350 processor for advanced technology and processing capabilities, this is not a great processor but it will do the job.
Let's talk about the our biggest problem with the device. The Warranty and Service, only 1-year limited warranty and service included with the purchase, you can get an optional extended warranty for 1-year, 2-year, and 3-year extended warranty. First of all, why is the warranty is so short? This gives the impression that Amazon doesn't have confidence in their product at first. But then they sell and extended warranty for 3 years. Well, another company sells it, but still, This device should last at least 5 years. It should come with a 5-year warranty for the price they are selling it for. This is not our only problem with the device. There is also the fact that it has to be on all the time and, the fact that it wastes too much bandwidth and electricity when it's on. These problems have to be addressed in future updates.