Our Top Pick for 2017 – Honeywell Furnace Filter
A very dirty furnace filter will cause increased energy bills, your heating, and cooling system will have to work harder and longer to maintain the desired temperature at home. It might also cause inadequate heating and cooling, you will feel your ventilation system putting out little or no air out of the vents. The worst case scenario, you might need repairs. Your HVAC is the most expensive part of your house, replacing or repairing your HVAC or duct system can cost a fortune. As a part of your seasonal maintenance, you have to clean or replace your furnace filter when it gets very dirty. We reviewed our old list of best furnace filter 2016 and made a new list for 2017.
When you are looking for a furnace filter replacement, it's normal to get confused by the sheer amount of different brands and models in the industry. According to the latest industry analysis, there are thousands of different furnace filter models. So which one is the best?
After testing and analyzing all the major brand in the market, we choose Honeywell Furnace Filters as the best overall furnace filter maker in the market. Honeywell offers a wide variety of sizes and MERV that will fit any duct system. Their catalog has washable options, meaning you are not condemned to use disposable furnace filters. Thought their F300 model costs more than disposable filters, it will pay back in long run.
Table of Contents
Best Furnace Filter
Honeywell furnace filters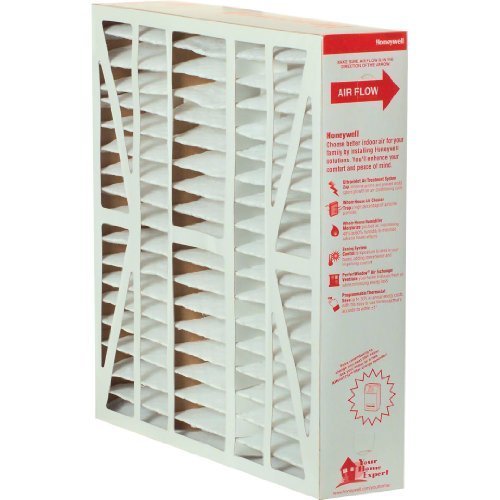 An industry giant with 110 years of history. Honeywell furnace filters are being used all around the world. The main reason we choose Honeywell is they passed all our tests with the highest ratings. Honeywell provides the highest airflow while having the highest MERV.
They have the most eco-friendly and healthiest option with their F300 model. They have a huge amount of options to choose from like variety of sizes, MERV ratings, and types. Their filters only increased the energy consumption less than 1% for MERV-11 and less. And around 5% for MERV-12 and higher models.
We recommend F100 media or FC100 pleated MERV-11 and using at least 3-inch-thick pleated models. Thicker is the better as long as your duct system is properly sized for the filter. We do not recommend using 1-inch pleated filters for any brand out there. The higher the MERV rating the thicker filter you will need because when the filter is thicker it has more surface area to allow the air to go through.
The installation is very easy for pleated and media models. To replace the furnace filter with Honeywell, you simply remove the old one and replace it with a new one. For a more detailed explaining about furnace filter replacement please check out our guide here.
Honeywell furnace filters work with all the major furnace models, including but limited to, Honeywell, Aprilaire, Space-Gard, Trion Air Bear, Trane and American Standard models. But filter size is not related to your furnace but it's related your duct size.
By keeping your air filter not very dirty you will be able to save on energy cost and lower your carbon footprint. According to the department of energy, a dirty furnace filter can increase your energy consumption by 5% to 15%.
Honeywell furnace filters are up to 60 times better when it comes to cleaning the air than your average fiberglass filters. This does not mean you should use your HVAC system for air cleaning purposes. You HVAC is for heating or cooling your house. It's not an air cleaner. There are other machines for that.
That said there is also an alternative if you really want to kill two birds with one stone.
We recommend on getting the F300 model if you can afford it. A similar system is used in US submarines. If you have a friend who has been in the navy, you can ask them about it. They must have washed these washable filters at some point during their service. This filter adds a static charge to particles in the air flow and then collect the particles using electrified plates with the opposite electric charge
F300 is an electronic air cleaner that replaces your old furnace filter. It's installed next to your furnace. The price might seem high but it's actually affordable because you won't have to buy furnace filters every season. Also, It's an air cleaner, meaning it captures 99% of airborne particles, so you won't have to get an extra air cleaner. You will never have dust problems after installing this model. It has a 3 stage filtration system; it's using electric charges to capture the particles when the air passing by. It comes with a 10-year clean coil guarantee and 5-year warranty for cleaner itself. You can expect them to last much longer than 5 years. We have people using these after 25 years. It has dimension range from 18-9/16 in. high X 6-3/4 in. wide x 13-1/8 in. deep to 23-13/16 in. high X 6-3/4 in. wide x 25-1/2 deep.
You have to clean the filter when it gets dirty. It has a light on top of it to inform you when it's time to clean your filter. It's dishwasher safe so you don't have to get your hands dirty for the job.
For installation of F300 model, you should hire a professional installer. But if you are good at DIY projects, here is the professional installation guide for the model. Be careful, though, this is high voltage installation. This model had a very low air pressure drop compare to other electronic air cleaners.
This is the most eco-friendly solution we found for furnace filter replacement. The peace of mind of knowing that you won't be disposing of a filter every month or every season is great as well. You will be keeping those disposable air filters out of the landfill and do you part saving the environment.
Trion Air-Bear/KOCH furnace filters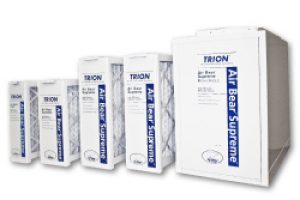 Trion Air Bear media filters and KOCH pleated filters are our second pick, it's a 70-year-old company owned by Johnson Controls. They are as good as Honeywell when it comes to HVAC knowledge and technology. Trion makes superior furnace filters and is respected among HVAC professionals worldwide. They produce pleated, polyester, and fiberglass disposable filters.
Their technical expertise about the furnace filters is highest among indoor air quality companies.
Their disposable filters are economical and great for light to medium residential air filtration applications.  They use one-piece moisture-resistant craft board frame, it's strong and easy to install. They are durable thanks to interlocking miter corners. These filters contain no extra metal, therefore more environmentally friendly compare to other brands.
Their Multi-Pleat XL8 model uses the latest technology in the market. The airflow numbers are better than the competition, in a mature industry like furnace filters, this is a breath of fresh air.
According to Trion:
"The Multi-Pleat XL8 carries a MERV 8 fractional efficiency rating in accordance with ASHRAE Test Standard 52.2. The filter will also provide an Initial Dust Spot Efficiency of 39%, and an Average Dust Spot Efficiency of 35-45% in accordance with ASHRAE Test Standard 52.1."
So we put these claims to a test. We did airflow tests for XL8 for 1 inch and 2-inch models. The 1-inch model results are not that great because it's nearly impossible to have a MERV 8 with such a small surface area. With result numbers .348 TESP 0.84 1050 cfm.
But their 2-inch model results are amazing.
Their 2-inch pleated XL8 furnace filters have the best testing results. Trion KOCH 2 inch pleated furnace filters had the highest MARV with the lowest airflow reduction among all 14 brands and 32 pleated filters we tested. They had close to same air flow resistance result compared the 4 inch pleated Honeywell with 11 MARV 0.269" vs 2-inch Pleated KOCH with MARV 8  0.275″ and they had very close TESP results with 0.71 airflows at 1120 cfm.
According to U.S. Department Energy's National Renewable Energy Laboratory (nrel.gov):
"An important maintenance task that will ensure the efficiency of your air conditioner is to routinely replace or clean its filters. Clogged, very dirty filters block normal air flow and reduce a system's efficiency."
If your duct system sized correctly Trion filters can protect your HVAC system and clean your air at the same time. It's a good upgrade from usually pleated filters. They provide MERV 8 and MERV-A 8 ratings which we recommend on getting. The fact that KOCH model doesn't need electrostatic charge for efficiency proves Mechanical MERV 8 media has advanced technology.
If you talk to an HVAC professional, they will tell you that furnace air filters are not meant to clean the air in your house. They are right, but the technology of filters is advancing every year. In 2017 most of the filters sold in the market are MERV 6 or higher. The problem with higher MERV ratings is they restrict air flow to your furnace, especially if you have a duct only sized for a 1 inch or 2-inch filter. Trion pleated filters have low resistance air flow. Our testing proved that their claims are true.
They have high dust holding capacity and strong double-wall frame design, and moisture resistant. The furnace filters come in 1″, 2″, and 4″ depths, but we recommend staying away from 1-inch models. They can be used for the most duct systems out there.
Trion Air Bear is a media filter. You place the filter media inside the cabinet to install it. They have a longer lifetime. They come in MERV 8, MERV 11, and MERV 13. We recommend not to buy the MERV 13 models because according to our testing it was too restrictive for airflow. Anything over MERV 11 rating will increase your energy bills according to The Energy Technologies Area at Lawrence Berkeley National Lab
The only reason Trion did not make the best choice among furnace filters is because they lack washable filters.
Air-Care Furnace Filters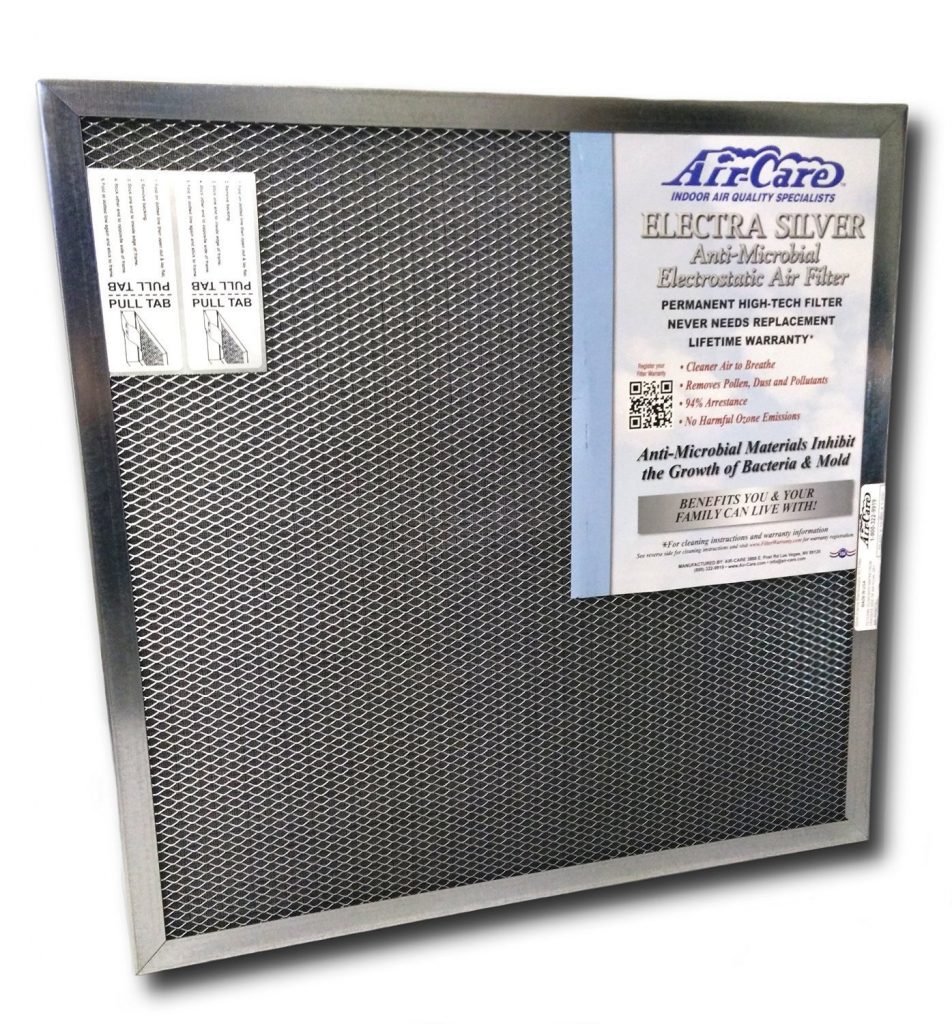 Air-Care makes self-charging electrostatic furnace filters. The main reason they are our third pick; this is your best option if your duct size can only support a 1-inch filter. Their filters come in 94% and 82% filtration efficiency.
During our testing, we saw the airflow resistance for 94% was 50% higher than 82% model. We recommend using 82% models if you have an older HVAC system.
The filter has 2 layers of Monofilament, woven Polypropylene, this is a self-charging electrostatic filter. It has 1 layer of Non-Woven Polyester used for depth loading, impingement type secondary filter purposes.
The installation is just like installing a regular 1inch furnace filter. You remove the outer polyolefin film and place it where your old filter is. It has 120 grams of dust holding capacity. This means it should be cleaned once a season. You can clean with a hose and blow drying with a hair dryer.
They come in all sizes if your size is not available they have custom sizes available.
The great part of these filters they come with a lifetime warranty.
Flenders Furnace Filters – Budget Option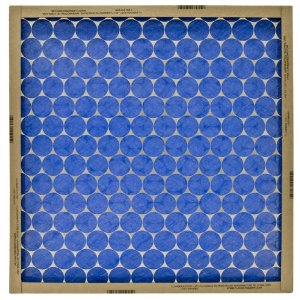 If your duct system can't handle the reduced air flow of pleated or media filters you will have to install a 1-inch fiberglass filter. Flenders makes great MERV 2-4 fiberglass filters. You will be able to protect your HVAC system from large particles.
This is a standard grade furnace filter that has been used on furnace filters for the last century.
We recommend E-Z Flow line of furnace filters produced by Flenders. They are very budget friendly and won't disappoint you at this price range.
The materials are what you can expect from a budget filter. It made out of continuous filament spun glass and protect by a frame. The frame is a simple chipboard. These filters have a short lifespan and should be replaced when they get dirty.
Who is our expert
Hello, my name is Ralph Kinney. I have worked with HVAC systems for over 40 years, as a residential HVAC professional from 1976 to 1989 in Santa Monica California and as a US government contractor from 1989 to 2011. I worked on all sizes of residential and commercial repair and replacement jobs, and I have been a freelance writer and contributor about HVAC installation and repair costs for the last 5 years.
My company repaired and serviced most the furnace brands. To name a few: Bryant, Amana, Goodman, Coleman, Trane, American Standard, Rheem, Day & Night, Lennox, Heil, Carrier, Ruud, Daiken and much more. You will gain from my experience since I have written about energy cost increase due to poor HVAC maintenance for the last decade. I have sold and replaced tens of thousands of filters in my lifetime. You will be guided be someone who has tested and analyzed the furnace filter brands for the last 20 years. My reviews, marketing essays, history pieces, and industry analysis research about HVAC related products have been helping consumers around the world to lower their electric bill and HVAC repair cost.
How we tested
We used two different types of furnaces with two different duct sizes for testing purposes. Our first test furnace was a brand new Carrier furnace installed a new 3,500 square feet house with a large duct system. The second furnace we used was a 15-year-old Goldman furnace with an average duct size installed in a 2,400 square feet house, for testing purposes.
14 different brands and 32 filters were tested during our trials. We measured the airflow with the fan on for the entire zone and static pressure of the entire furnace. Compared it to MFG chart to get CFM values. We measured the supply static with each filter. We also measured TESP(Total External Static Pressure) of each filter. TESP was done by drilling 2 holes, one for air going out, one for air coming in. We used a PYLE Meters PDMM01 Digital Manometer, static pressure tip facing the airflow.
Energy consumption measured by using the Department of Energy Test procedures published on energy.gov in April 2012 in the Code of Federal Regulations (CFR), Title 10, Appendix N to Subpart B of Part 430, established under the Energy Policy and Conservation Act.
Other Furnace Filter Brands
The furnace filter industry will pass 19 billion by 2020 according to the latest market analysis by Tech-sci-research.
The biggest company in the market is 3M Filtrete with over 35% of market share in the US. So how come they didn't make it to our list? We didn't include 3M because they do not have MERV ratings on their furnace filters. When you have a company refusing to label their products according to industry standards, you should be very suspicious. Why would a company like 3M with their flagship filter brand Filtrete does not carry MERV ratings? The answer is very simple, they don't want to be compared to the competition. All the government studies done about furnace filters are based on MERV ratings. When you don't have a MERV rating, you don't get to be tested in major studies.
Our testing proved that our suspicions are right. Filtrete filters are horrible for your furnace. They have very high air flow reduction numbers compare to other filters. They get dirty very fast and have to be replaced more often. These filters are one of the major reason why America spends more on home heating compared to rest of the world. An average American spends 3 times more on heating compared to a British.
Their sale numbers are a testament to the power of marketing industry. They have made up their own ratings called MPR(Microparticle Performance Rating), which don't have an equivalent table anywhere on their website.
They created a product that cost consumers a lot more than the competition, yet they end up being the market leader.  Their marketing is amazing; they have 40 thousand word articles about furnace filters if you have time be brainwashed. Their products have shiny gold color typography with cute couples and children smiling, and smelling the roses; while ignoring the fact the company fills more landfill than any other company in the industry. Filtrete is also creating a giant carbon footprint for the consumers by increasing energy bills.
Ask any honest HVAC professional about Filtrete furnace filters and they will tell you to stay away from these 1-inch nature destroyers. They are also very bad for your furnace system which is the most expensive part of your house.
We understand why someone buys these filters tho. They are duped by the 95% of the websites out there, claiming they can use their not properly sized duct system to clean the air in the house. Perhaps, they can only have a 1-inch filter because their duct size only allows them to have 1 inch. So instead of buying a 2 dollar filter, they go with a  30 dollar one, thinking it will fix the indoor air pollution paranoia created by the industry.
Our recommendation is to stay away from Filtrete products. 1-inch furnace filter with high air flow reduction, this is very bad for your furnace and our planet.
If you want to support 3M, stick to their coffee filters, because they have no idea how to make furnace filters.
Same thing goes to Home Depot with their made up FPR (Filter Performance Rating). Stay away from those as well. There are a lot of great companies out there who are expert about furnace filters. Stick with a company who follows internationally accepted rules and regulations.
Are there any other companies not mentioned in the article. that is good at making furnace filters? Yes, there are more, but they did not make the cut because they didn't score good enough scores of the airflow test or energy consumption test. Some products didn't make the list because the price was too high. For example, Aprilaire was not mentioned in the article but they make great furnace air filters. So, If you have an Aprilaire system you should get an Aprilaire filter. Their prices were a bit too expensive when we did our testing so they didn't make the cut.
Myths about Furnace Filter
Let's get the biggest myths out of the way before we go into more detail about furnace filters. There is so much wrong information about furnace filters on the internet, it can fill a whole book. We are going to tackle a few big ones. We always say, "You should do your own research" but if you try to do research about furnace filters you will realize, it very hard to find accurate data. By accurate data, we mean scientifically proven, peer reviewed studies. Most of the data out there is made up of "projections", not actual real life data.
You don't have to replace your furnace filters every month in order to save money on your utility bill. A dirty filter does not increase your energy consumption too much. Unless it's very dirty, your system air flow doesn't change much. When your system air flow is reduced, you fan kWh goes down on standard motors. Permanent split capacitor fans don't work extra, but ECMs (electronically commutated motors) do. There is no data proving that you should change your furnace filter every month other than filter industry made-up claims.
Furthermore, reduced air flow due to furnace filters has a very small impact on efficiency ratings. It could have some impact if your system has another airflow problem but that has nothing to do with filter air flow reduction. For example for a gas furnace, your energy consumption will go up only 1% if you reduce the airflow by 25%. Your Air conditioner will only lose 2% energy efficiency ratio for 20% reduction of air flow. Did you know that your small AC (2tons) have too much air flow. A recent study found out that reducing air flow increased efficiency for small air conditioners.
Another widely circulated myth about furnace filters is, it doesn't clean your air when it's dirty. This is not true, as a matter fact, your filter cleans better when it's dirty because of the MERV increases. There are no studies proving that a dirty filter stops filtering air when it's dirty. Think about it for a second, why would a filter allow more stuff to pass trough when it gets dirty? It simply won't and there are no studies proving it otherwise.
If your furnace filter is very dirty, it can cause cycling on limit. This means, your furnace will shut down if your furnace filter needs immediate replacement. This system is in place to protect the furnace from failing. If your furnace keeps turning off and on, check your furnace filters and see if it's very dirty.
Before you buy a furnace filter
Furnace filter replacement is a simple process if you do your homework right. We will show you how to change the furnace filter step by step.
First, you have to make sure that you really need to change the furnace filter. You shouldn't just change your filter because someone told you to do so.
Second,  you have to know what size of filter you need to change the furnace filter because if your filter doesn't match to your duct size you will lose airflow.
Third, you have to decide what type of filter you need.
Finally, the installation is very easy, but you have to know what you are doing.
Without further do here is a step by step process to show you how to change the furnace filter.
What size furnace filter do I need?
There are hundreds of brands of HVAC system currently installed around the world. But your HVAC system is not the only indicator for your filter size. Your filter size is related to your duct size as well. If your duct system properly sized, your filter size should be small or large depending on the size your home. Assuming that your duct is properly sized, and the last person knew what he was doing while changing the last filter, you should just get the same size.
This means, to check what kind of filter you need, simply take a look at the current one before purchasing a new filter. Your filters should be located on your ceiling, wall and next to your system. Furnace filters are used on the return vents. When you look at your system, find where the air sucked into your system. The furnace filter is typically located right next to your HVAC (heating, ventilation, and air conditioning).
Simply open the protective cover and take a look at the filter, you might have to pop it out a little to see the sides because dimensions are located on the side of filters. Do not take out the filters before you get a new filter. Pay attention to arrow sign on filters, it indicates the air flow direction. Your new filter should be installed in the same direction. The arrow should be pointing the furnace motor. If your old filter has no dimensions on it, just get a tape measure and write down the dimensions of your filters.
What if your old filter was the wrong size? This actually happens a lot, you might have changed the filters without checking it first. Perhaps the previous homeowner installed the wrong filter as a going away present. In any case, measure the dimensions with a tape measure. You can always check the user manual. If you lost yours, take a look at Manuals Online, they have most of the furnace manuals on their site.
The formula for determining the filter size is CFM divided by 2.08, equals the square inch of your filter. If you have a 3 ton AC, you will have 1200 CFM system, because each ton equals to 350 to 400 CFM. The filter you need for such a system is 1200/2.08=577 square inch filter. This system will require a 24″ X 25″ filter because 24*25=600 square inches.
But there is another dimension, the thickness of your filter. The thicker is better as a general rule if your system can handle it. With a thicker furnace filter, you can pick up a higher MERV filter without restricting air flow.
How often should you change furnace filter at home?

Filter manufacturers might say you need to change our filters every month because they want to make as much money possible. You don't have to change your filter every month, filters work better when they are a little dirty. As a general rule, you should change them once a season, especially before the summer. You have to check for one year and take notes which month it gets very dirty and after that, you can follow the same schedule every year.
There are ways to figure out if your filters need to be replaced or cleaned. You can do a simple light test, it's a visual examination of the filter. Take the filter out, hold it at a light, if you can't see the light, you need a new filter.
Another way of checking if your filter needs replacement is by checking it with a manometer. Your filter system might have one already, so simply check the lights on the filter system.
If your system doesn't have one, you can purchase a digital manometer and do an airflow test. For airflow test to work, you have to test it when the filter is clean first so you have a number to compare. Static pressure listed on the equipment nameplate is not the same for your filter. The manufacturer of your furnace might have tested it without a filter, or with a different filter.
Be careful when drilling holes, make sure you know what's behind when you are drilling.  You can remove panels and check what's behind it before you start drilling. We recommend using 3/8-in.  metal piercing, bullet drill bit, and use drill bit sheath. Make sure to face the static pressure tip into the air flow.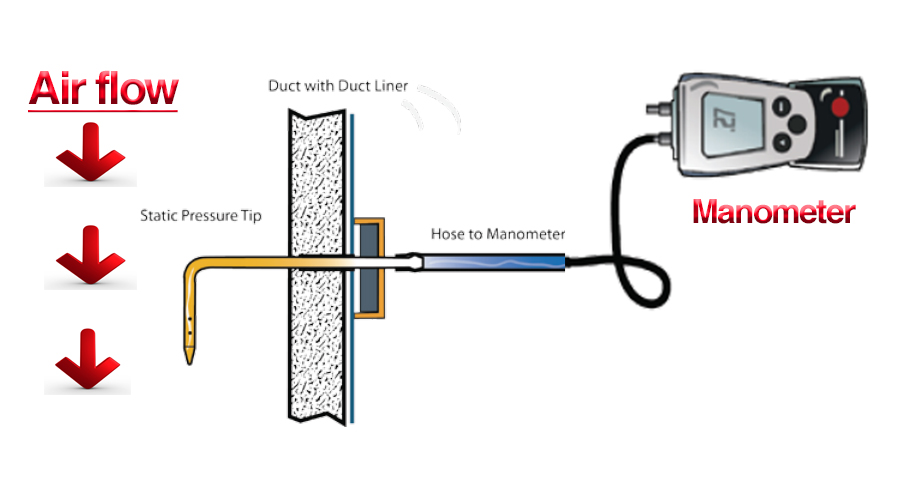 Types of Furnace Filters
There are 4 types of furnace filters you can purchase for your furnace system.
Fiberglass filters, these are your standard furnace filters, and they are the cheapest filters you can buy. The only goal of these filters is to protect HVAC equipment from large particles. Sometimes this is the only option for your furnace because of your duct size or the age of equipment. They are typically MERV 2 to 4.
Pleated filters use folds of material to increase the surface area of the filter media, and have higher MERV than standard filters. This type of filters are the most common filters used in homes. They are not washable, they come in various sizes and MERVs. There are thousands of companies making these filters since the technology to make them is very old.
Passive electrostatic filters use the properties of the filter media to create a static charge as air flows through the filter. This charge helps attract small, naturally charged particles in the air flow. This can be turned into an eco-friendly approach to filters. These filters can be washable and can last very long time if properly maintained.
Active electronic filters differ from passive electrostatic filters in that they use a two-stage process to first add a static charge to particles in the air flow and then collect the particles using electrified plates with the opposite electric charge. The initial cost is high but they are affordable in the long run because you won't have to buy a disposable furnace filter every time it gets very dirty. You will be saving money and lower your carbon footprint at the same time.
What is MERV?
MERV is short for Minimum efficiency reporting value. MERV is negatively correlated with the size of the particles passing through the filter. The higher the MERV the smallest particles your filter can capture. Why is negatively correlated? Because filter makers want to make more money that's why. People want to buy products with bigger numbers according to marketing data, so they made up a rating that goes up as the particle size decreases. It's as confusing as the United States customary units, why aren't we using the metric system for example?
Anyways, let's stay on topic.
MERV 1-4 filters pollen, dust mites, cockroach debris, sanding dust, spray paint dust, textile fibers, carpet fibers. Anything bigger than 10 micrometers gets filtered with standard, fiberglass air filters.
MERV 5-8 filters Mold, spores, dust mite debris, cat and dog dander, hair spray, fabric protector, dusting aids, pudding mix. It filters particles from 3 to 10 micrometers size. This is your average furnace filter MERV for residential, commercial and sometimes industrial applications.
MERV 9-12 filters legionella, Humidifier dust, Lead dust, Milled flour, Auto emission particulates, Nebulizer droplets. This type of filter stops particle from 1 to 3 micrometers size. According to our testing, this is the highest MERV rating you can use before you start seeing an increase on your utility bills. This is where you should draw the line before getting anything higher. It will be cheaper to buy an air cleaner specifically designed to filter the air in your home.
MERV 13–16 filters bacteria, droplet nuclei (sneeze), cooking oil, most smoke, and insecticide dust, most face powder, most paint pigments. It filters particles from 0.3 to 1 micrometers size. If you want your house to smell like a hospital you should use these filters because this type of filter commonly used in the hospital. Yum, that hospital smell.  Your utility bill will increase a substantial amount if you install these filters.
MERV 17-20 filters Virus, carbon dust, sea salt, smoke. It filters particles smaller than 0.3 micrometers. Commonly used electronics and pharmaceutical manufacturing cleanrooms.  If you get this filter, you should also install a clean air shower at the entrance of your home. You should also buy a cleanroom suit to go with it.  Expect to pay a fortune on utility bills after installing these filters.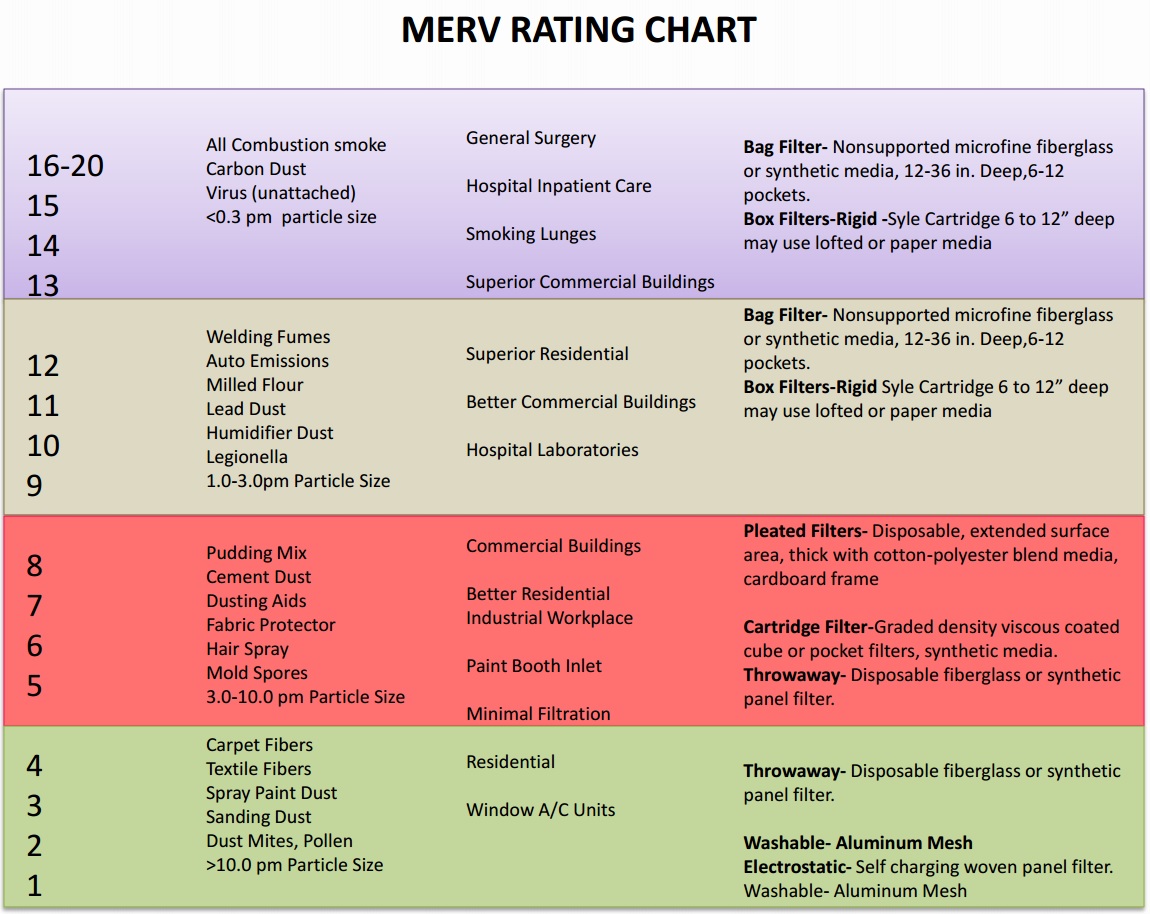 Recommended MERV rating for furnace filters
We recommend MERV 5 to 8 filters. Do not buy into the hype, this range of MERV filter is more than enough for your house. If you really want to go higher, we recommend staying below MERV 11. According to the latest Department of Energy study and our tests, this is the highest MERV you can go before you see an increase on your utility bills.
The thickness of your filter plays a major role when it comes to restricting air flow. For example, a 1″ MERV 11 filter can be very restrictive for your system but if you switch to 5″ MERV 11 filter you will be fine. Because there is more surface for the air to pass trough.
As a general rule, you should stick to the same MERV rating as your old furnace filter. Beware of increasing your MERV recklessly, because buying the wrong MERV might cost you a lot. If you switch from a low MERV to a higher one, your fan speed might not be enough to circulate the air in your house. You might end up with a broken HVAC in the middle of a night. Do not go out and buy a very high MERV filter because it's expensive. You are not using your HVAC to filter the air in your house, they are not built for that, you don't need a very high MERV.
Another tip: Do not say MERV value, the "V" in MERV means value. It's like saying ATM machine, it's redundant.
Furnace Filter Installation Guide
Take out the access panel, and just pop out the filter and replace it with the new one, make sure the arrow is pointing the same direction as the old one, if the old one doesn't have an arrow, the arrow points the airflow, it should be pointing the motor. You can use a vacuum and clean the dust around the access panel at this time.
Make sure the air filter fits, there shouldn't any gaps for the air to escape. If there is a gap you can cover it with a strip of tape or you can purchase a furnace filter cover.
Congratulations you just saved 11$-35$ a year depending on where you live.
Final Thoughts
As a rule of thumb, stay away from anything 1 inch and over MERV 8 or equivalent rating. Do not buy anything over MERV 11 rating because it will increase your energy bill. If you have to replace your furnace filter once a month, you are doing it wrong.
Try to find the most eco-friendly furnace filtration model you can afford. You should pay attention to your carbon footprint. If you do, people around will do too. What is life after all? A global unity movement.
Drop a comment if we missed something or you want to add more information to the article.
Resources
3M Filtrete website: 11/23/2016 http://www.filtrete.com/3M/en_US/filtrete/products/~/Filtrete-Products/Air-Filtration/?N=4315+7568680+3294529207+3294857497&rt=r3
Global Air Filters Market Forecast and Opportunities, 2020: 11/23/2016 https://www.techsciresearch.com/report/global-air-filters-market-forecast-and-opportunities-2020/408.html
Energy-Efficient Air Conditioning 11/23/2016 http://www.nrel.gov/docs/fy99osti/17467.pdf
Trion Residential Filter Program 11/23/2016https://www.trioniaq.com/getfile2.aspx?fileid=9092

MAINTAINING YOUR AIR CONDITIONER

http://www.energy.gov/energysaver/maintaining-your-air-conditioner 11/23/2016
System Effects of High-Efficiency Filters in Homes https://eetd.lbl.gov/sites/all/files/lbnl-6144e.pdf 11/23/2016
Microparticle Performance Rating https://en.wikipedia.org/wiki/Microparticle_performance_rating 11/23/2016
Effectiveness of Air Filters and Air Cleaners in Allergic Respiratory Diseases: A Review of the Recent Literature https://www.ncbi.nlm.nih.gov/pmc/articles/PMC3165134/#CR9 11/23/2016
HVAC Talk Forums http://hvac-talk.com 11/23/2016
More Energy Myths Energy-saving tips that you can safely ignore http://www.greenbuildingadvisor.com/blogs/dept/musings/more-energy-myths 11/23/2016
Manuals Online http://www.manualsonline.com/
Static Pressure Testing: How, Where and Why http://contractingbusiness.com/
Air Filter Testing, Listing, and Labeling http://www.energy.ca.gov/
Measure and Interpret Static Pressures https://www.energystar.gov
Originally Written 11/23/2016