Ecobee3
Price

Installation

Interface

Design

Warranty
Final Verdict
Ecobee3 Review
"Bees do have a smell, you know, and if they don't they should, for their feet are dusted with spices from a million flowers." ― Ray Bradbury, Dandelion Wine.
Ecobee3 is a great replacement for your old thermostat in your house. Its biggest competitor is the Nest. We will be compare them during this Ecobee3 Review. They are both around the same price range. From a functionality point of view, they do exactly the same thing. Ecobee3 has the advantage of coming into market years after the Nest. It's a cool wireless thermostat with WiFi. So what makes Ecobee3 unique?
Ecobee3 remote sensor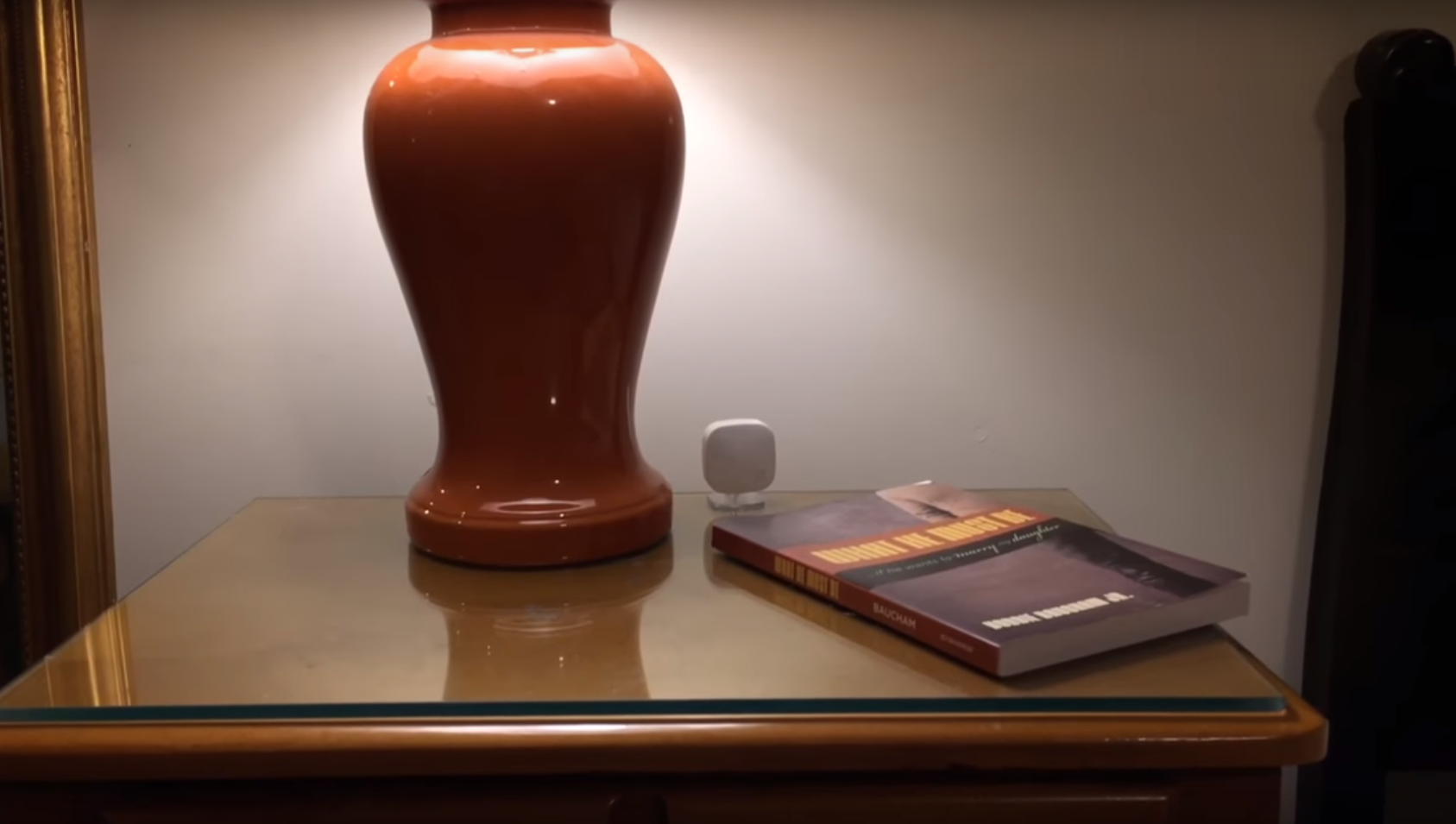 Ecobee3 comes with a remote sensor that gives you the temperature not just in that main room or hallway where the thermostat is but anywhere in your home. The sensor comes with a little plastic stand which allows you to stick your little sensor on, you can always mount directly to a wall or furniture. Sometimes thermostat is somewhere away from the people and that is not a good place to gauge the temperature of the house.
You can put these sensors in your bedroom or living room and it will actually detect whether or not people are there, as well as what the temperature is in that room. It will send that information back to the  thermostat and Ecobee will set up the temperature according to your settings. One sensor is included with your main Ecobee. You can pick up more sensors if you're interested, up to 32 if you are living in a castle. The sensors on the Ecoobee3 itself are smart too, when you walk up to the thermostat it will switch to user mode.
What's in the Ecobee3 box?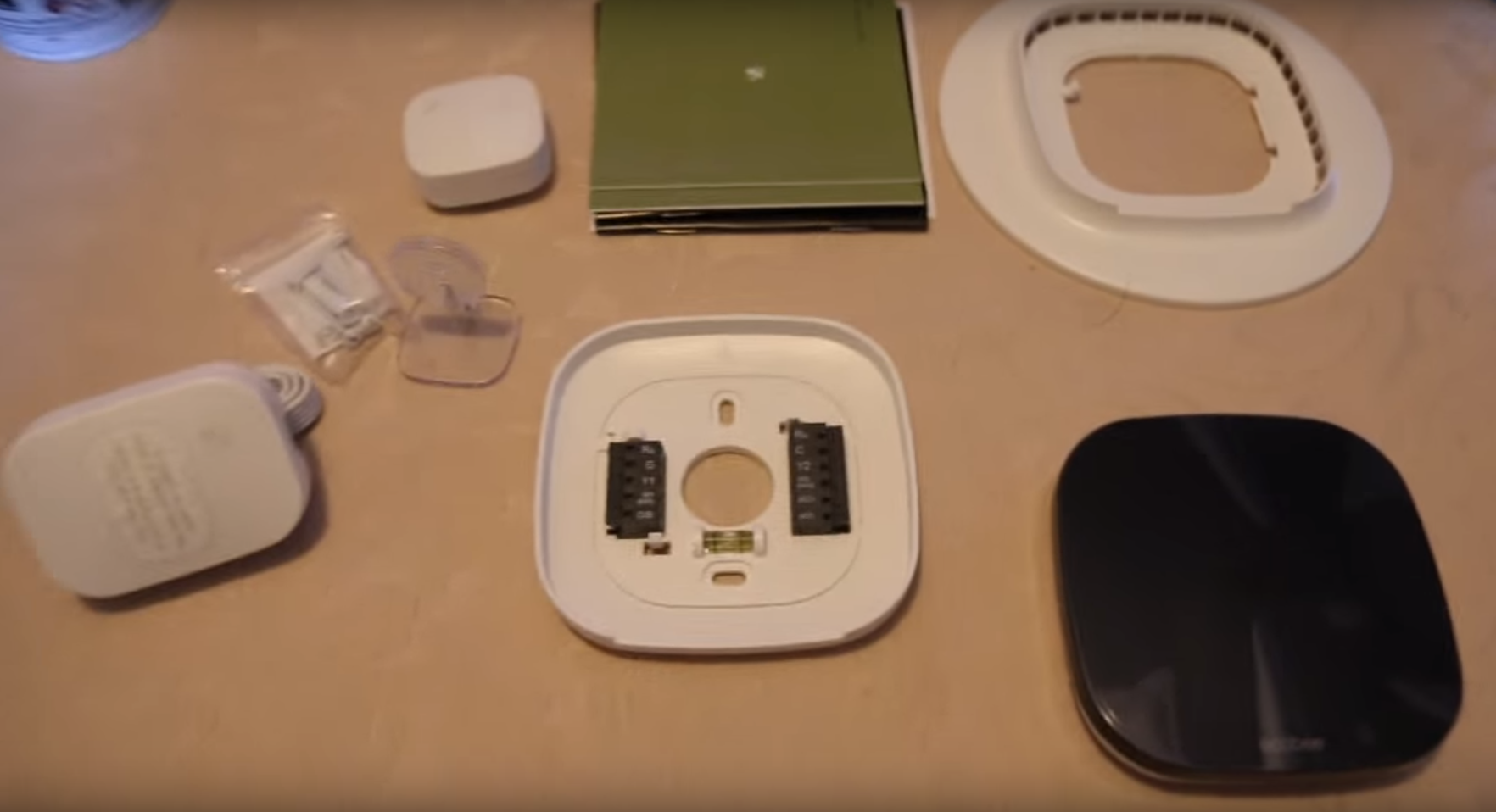 The Ecobee 3 comes with an extra common wire in the box. Some system might not have a common wire installed, this is a very nice touch by Ecobee3, it shows that they spent the time to figure out what's most common problems with installation. Installation guide, an extra sensor with a plastic stand, screws,extender kit,thermostat and back plate came out of the box. Lots of extra items here compare to other thermostats we reviewed.
For homes with humidifiers, ecobee3 regulates indoor humidity because when it's too cold outside and high humidity indoor your winds build frost. The Ecobee3 thermostat has a touchscreen and black exterior in front and a white matching mounting plate on the back. This is not as elegant as the Nest. Nest looks a little bit better with its shiny metal cover design which reflects your wall color. With Ecobee3 you're stuck with black and white, so this might not match your wall color and or could contrast a little bit but it's not too big of a deal because most colors go well with black or white.
Ecobee3 Home IQ™ and Setup
The setup process is a bit long compared to other smart thermostats because Ecobee has a much more detailed options menu. To effectively use those and Homekit, you have to put in a lot of extra information for the first setup. Ecobee app allows you to control the device remotely just like any other app. Ecobee3 understands how your home heats up and cools down, and uses Wi-Fi to track your local weather throughout the day.
If you're going to turn on HomeIQ you are going to give it a little bit information like, what kind of building you are living in, is it an apartment, when was built, how many floors to the basement garage etc. Home IQ™ shows you a lot more stats like energy conserved that month which helps you figure out how to lower your electric bill. It's like a home energy audit at no additional cost.
One small problem with the app itself, when you change the temperature on the app, it will adjust the thermostat and it's going to leave your schedule. Sadly, there's no simple easy way to go back to the schedule. Unfortunately, the same problem exists on Nest as well.
Ecobee3 and Apple Homekit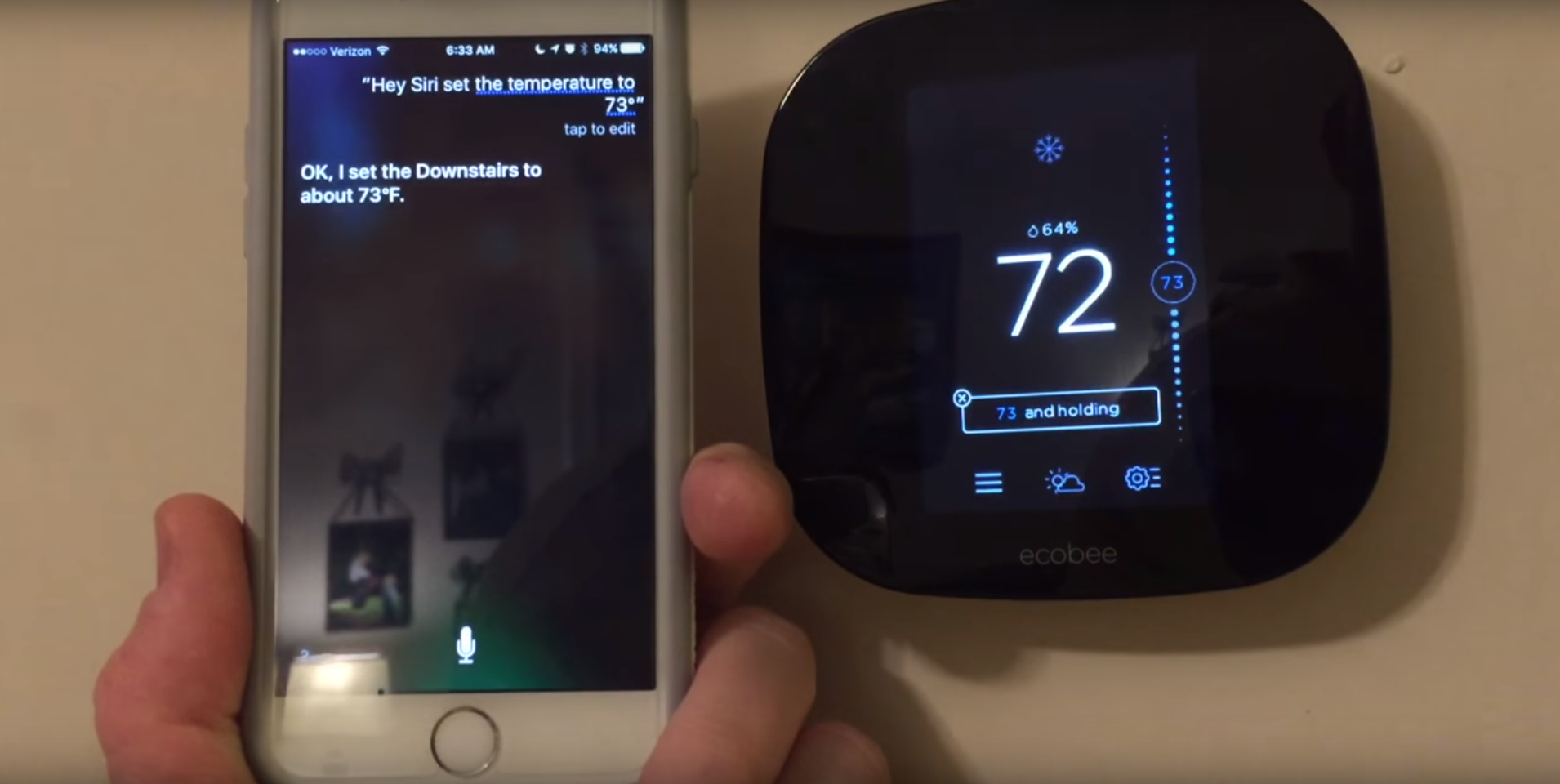 Ecobee3 works great with Apple Homekit, it almost feels like the device was designed by Apple Homekit team. Apple Homekit turns your phone into a hub to control the entire house. I believe, Homekit is the greatest thing about these Wi-Fi thermostats. Once we get the home kit code to display on our thermostat, which is not included in the box like most other accessories, (you can scan it or you can manually enter it in) you will be set for Apple Homekit.
From Homekit you will have much detailed access to the thermostats functions like the current cooling state, current and target temperature. You can change the target temperature and a lot more. The coolest part is, you can do all that with your voice as well. So you simply say "Can you make it a little bit warmer here? A little bit cooler? Can you turn the air off? Can you let me know what the temperature is?" everything you can do with the app now you can do with your voice.
It could do even more fun things. If the rest of your house connected to Homekit the possibilities are endless. You can say stuff like a "Good night Siri" and Siri will lock your door, turn off your lights in the living room, dim the ones in the bathroom and it can set the thermostat to a nighttime temperature 68 degrees and tuck you in bed. Ok, not the last part but still.  Now this is the stuff of the future.
Pros
Homekit
Touch Screen
Local Weather
Remote sensors
Geofencing
Apple Watch app
Homekit is huge, being able to control everything with your voice if you don't have something like an Amazon Echo in a Nest, is fantastic. It also has a touchscreen which I do prefer to the wheel kind of motion of the Nest. Local weather, it will let me know if it's raining or chance of rain without actually having to check your phone like you normally would.
Remote sensors are also nice because they give you a better gauge of temperature as well as whether or not people are home. Nest does this similarly using the Nest Protect smoke detectors, but those really expensive and you don't need to get extra smoke detectors in your house when you already have them.
Geofencing is a feature of HomeKit, when you arrive or leave your home it can set different scenes and it will change the thermostat appropriately. Apple watch app is great as well, which we know the Nest does not have. You have to use third party option for Nest. If you don't want to use your voice or can't you can do it on your Apple watch.
Being able to set your thermostat temperature on the way home is great. For example, you are going to the beach for the day and on the way back you want your house temperature to be cool of warm. You can set it up using your phone and your house will be comfy when you get there. It's like having a friend at home to call and ask to do something.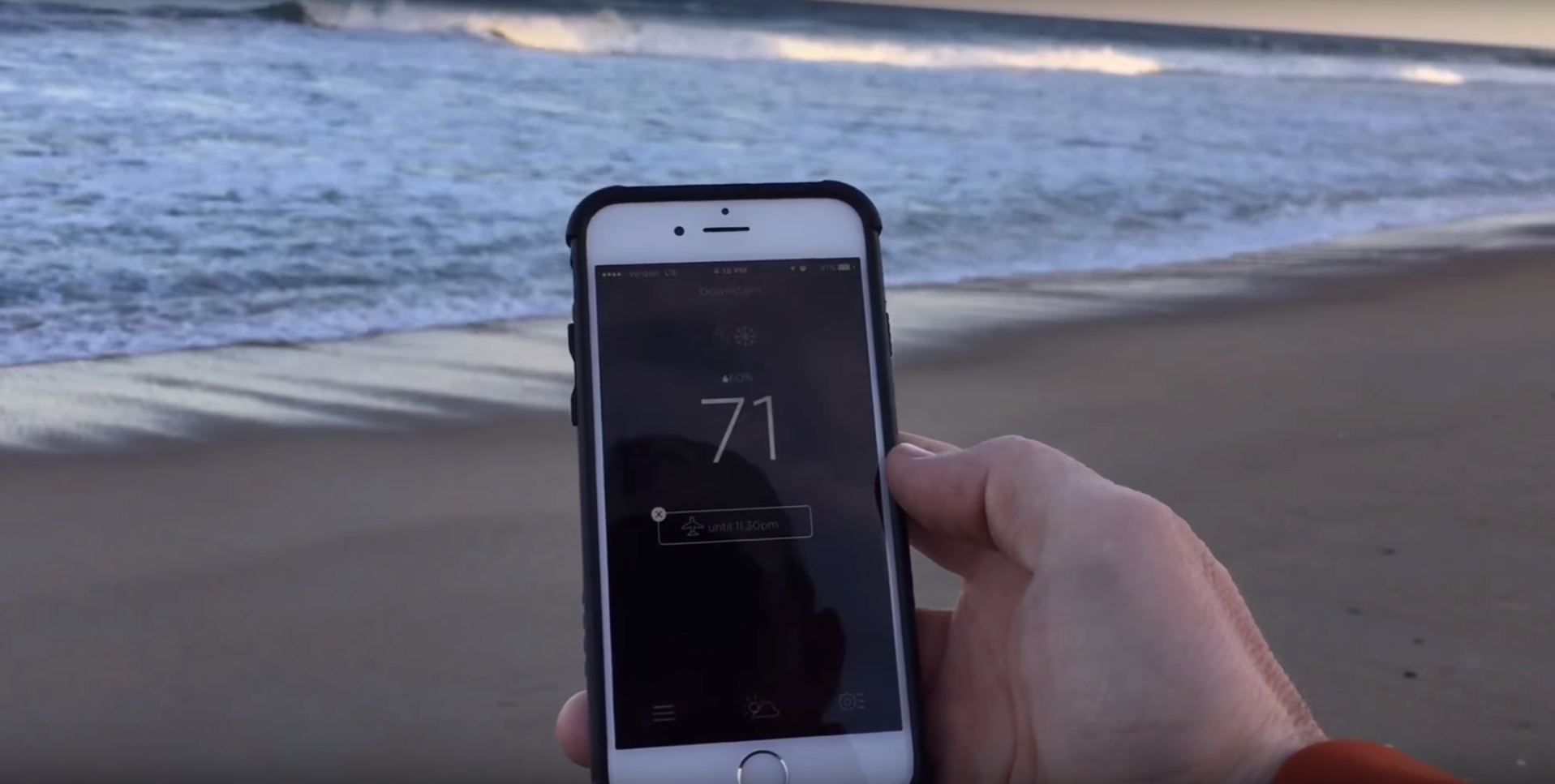 Cons
Plastic
Long Installation
Only 1 sensor in the box
Screen resolution
While our list of pros as long in our Ecobee3 Review, we do have a small list of cons. The first one is made out of plastic. Nest is metal and glass and looks very premium, Ecobee also looks nice but it is made of plastic comparatively.
The installation is a little bit more difficult than Nest, but both of them are easy for someone like me who has little DIY skills and they both you offer professional installation. Sensors can be a little bit pricey if you're going to put those in every single room of your house.
The screen resolution is not quite up to park. There's nothing wrong with it. It works and looks fine and that's what you'd expect from a device like this, but we do wish it would be a bit higher.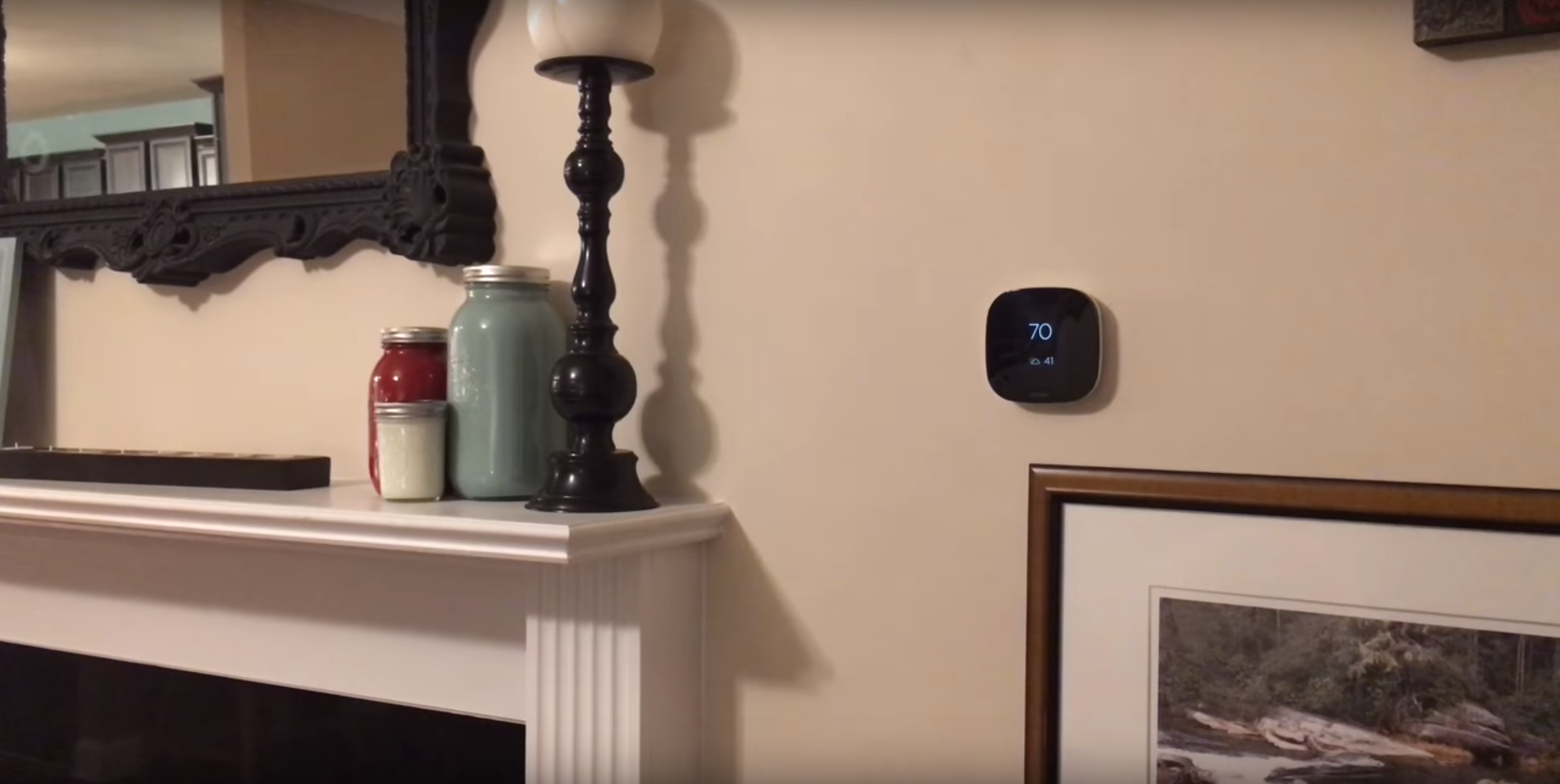 Compatibility issues of Ecobee3 and how you can solve it.
I had a Carrier System with lots of cables going in and out, Ecobee website and support helped me over the phone and in emails. I had to send them a picture of the old thermostat box. Their compatibility page is kinda hidden on their website , Also the word compatibility didn't come to my mind when I was searching for a solution. There is a nice screen where you select the wires you have and it tells you if your system is compatible or not. It asked me to email them a picture of my thermostat. There is also a phone number you can call. Here is a diagram to install ecoobee3 on a complex system.