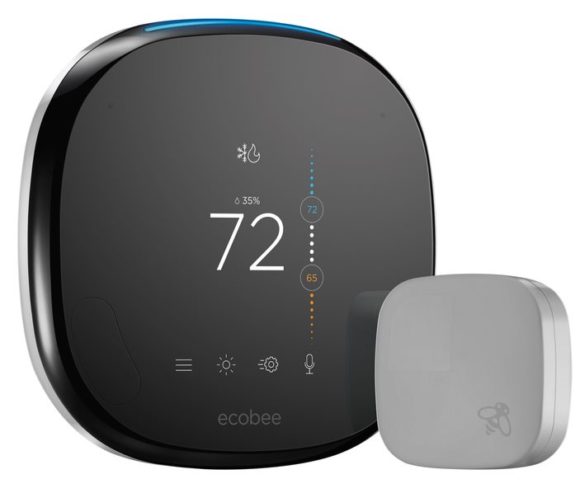 UPDATE: Check out our Ecobee4 review here.
We have 24 hours left until the big announcement from Ecobee about their newest smart thermostat Ecobee4. The announcement will be made on their facebook at https://www.facebook.com/ecobee/. We talked about this news on our Ecobee4 release date article. According to Ecobee website, Ecobee4 will start shipping on May 15. The price tag will be $249.
There is a huge buzz around the internet on forums and social media about the announcement. Let's take a look at what we know so far and the reaction on the internet.
What we know so far
Ecobee4 comes with Alexa, we can see that on the unreleased box pictures we have at hand. Alexa is an intelligent personal assistant developed by Amazon. It is capable of voice interaction, music playback, making to-do lists, setting alarms, streaming podcasts, playing audiobooks, and providing weather, traffic, and other real-time information, such as news. Alexa can also control several smart devices using itself as a home automation system. This addition to Ecobee thermostat had mixed reactions from the current and future users of the thermostat.
This new software addition to Ecobee thermostat had mixed reactions from the current and future users of the thermostat.
Some of the Reddit users reactions:
"
GingerMan512 :  "Alexa built in? No thanks."
devpsaux : "Argh. I wish this would come out. I was about to go buy a couple of Ecobee3s to replace my Nest system. So sick of dealing with the Nest support run around. I'm heavily invested in Alexa at my house so now I want to wait for one that has better integration. I guess old thermostats it is for now."
PolarHacker : "Looks pretty slick! Much better than the EcoBee3 IMO. I'm excited to see Alexa as part of it. And is it just me, or does that look like an OLED display?"
satisfried : "Looks pretty good. The current Alexa skill sucks beyond belief, it would be cool to see Alexa integrated into the actual device. Probably nothing mind blowing enough to warrant an early upgrade for me but I'm digging the sleek design!"
"
These reactions sum up the general buzz on the internet about the device. If you already have Alexa and like the device, you will love Ecobee4. Even if you never had an Alexa at home, this is a great opportunity to get into home automation. In other words, Ecobee4 will include and Amazon Eco, a 49$ value in it.
On the other hand, you might not want your thermostat turning into a listening device for advertisers. Because Amazon will most likely share your information with its vendors for advertising purposes. Although we are not 100% sure about sharing your information part yet, let's be real. Why would Amazon invest 30 million dollars in a thermostat company if they got nothing out of it?
This also means Ecobee4 has a built in microphone in it. This is a nice addition to the older model if the price stays the same. You won't have to find carry your cell phone around in order to give commands to Ecobee anymore. We all like the smart home automation but carrying your cell phone around gets old pretty quick.
Alexa is not perfect by any means, Amazon still has a lot of work to do about the system. Especially the voice recognition part of it.
Anyway, see you in 24 hours. We will post another article about the subject after the announcement, and we will analyze the reactions again.