Ecobee4
Price

Installation

Design

Interface

Warranty
Final Verdict
Ecobee4 is the best premium smart thermostat in the market. It's the only smart thermostat in the market that comes with a sensors and voice recognition capabilities built-in.

Ecobee4 Review
Ecobee4 is the latest comer to the smart thermostat market but it is much more than a smart thermostat. The new Ecobee4 has turned smart thermostat into a smart hub by integrating Alexa into the system. The best thermostat in the market just got better. We will review Ecobee4 for those who never bought a smart thermostat before and for those who already have another one. It starts shipping on May 15, 2017.
What's new with Ecobee4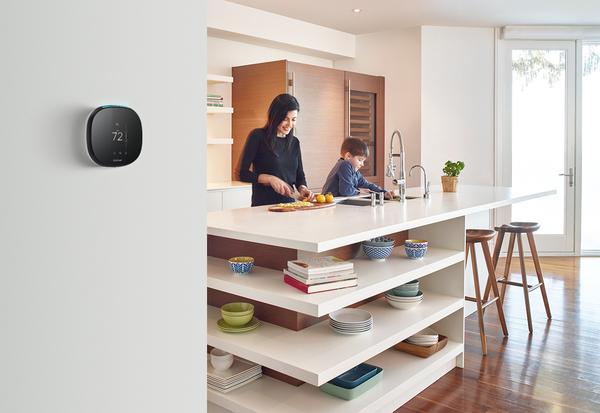 The new Ecobee4 has all the features Ecobee3 had including one extra sensor to detect temperature in other rooms, with an option to have up to 32 sensors if you live in a very large house.
So what is the difference between Ecobee3 vs Ecobee4? Ecobee4 comes with built-in Amazon Alexa voice service, it has far-field voice technology and can support more accessories compare to Ecobee3. There is now a blue LED light bar on top of the thermostat but when the unit is mounted at the usual height most people won't be able to see the light itself, only the glow from it on their wall.
Ecobee4 Comes with built-in Amazon Alexa Voice Service
Ecobee4 becomes the first smart thermostat with voice recognition capabilities. You can now ask Ecobee4 anything you want.
I know you are thinking, "but Ecobee3 is already working with Alexa". No, it actually comes with Amazon Alexa build in, Imagine your smart thermostat has an Amazon Echo in it. This is another added value right out of the door.
There is a new microphone button on the right bottom corner of the interface screen of new Ecobee4. You can adjust your Alexa settings, turn the microphone on and off and the volume from here. I turned the volume up because the factory setting were a bit low for my hearing. Push talk option gives you instant access to Alexa which is nice if you are in a hurry.
You can set timers and alarms, or attach thermostat actions to other actions. For example, turning off the lights and the heat when you leave your house.
Ecobee4 has been our favorite smart thermostat for the last two years. Integration of Alexa into Ecobee is not a surprise for industry nerds. Because Amazon invested $35 million from its Alexa fund to Ecobee.  But integrating a software into hardware is not an easy task. There are thousands of companies tried and failed integrating voice recognition software into their machines. It's not as easy as just installing a microphone into the old machine.
According to Ecobee CEO Stuart Lombard ""When we started, we tried putting an Amazon Echo on the wall, and unfortunately the performance was horrible,"  This is an interesting fact, the Alexa software is designed for Amazon Echo at hand. Ecobee worked on voice integration for 15 months.
"It shows you that the physics of how sound waves propagate in your home and understanding how to deal with things like having a TV on in the background….are quite complex and so you need a specific microphone array in order to be able to get great quality,"   Lombard explained.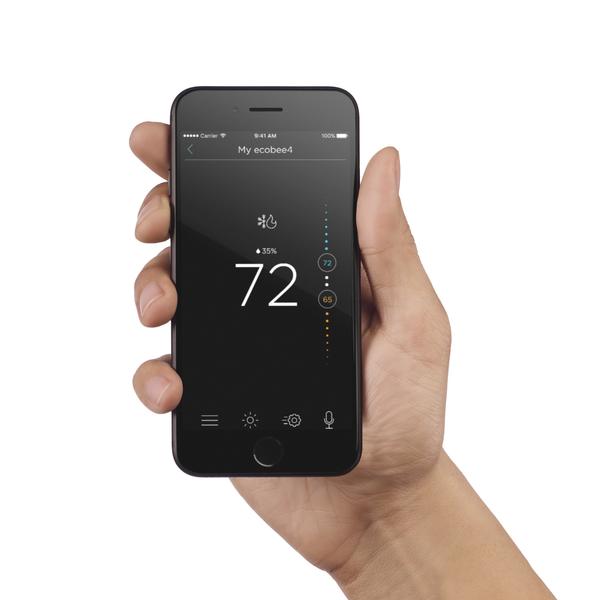 Ecobee4 has Far field voice technology
During our testing, Ecobee4 voice recognition worked much better than Amazon Echo. This can be contributed to better quality microphones and new updated voice recognition technology called "Far-field voice technology". Ecobee4 was able to hear commands from a room away. It had a range of 30 feet during our testing in a large room. They weren't joking when they named the technology Far field.
This is a great value, the possibilities are endless here. Imagine being able to take a note of every thought you have during the day. People usually think of something important but forget about it a few minutes later. For example, you are cooking in the kitchen, and you realize you are missing eggs. You can simply say, "Alexa add eggs to my shopping list" and Ecobee will add "eggs" into your shopping list.
If you have other smart household items you can live in the future. At night time, with one simple voice order, Ecobee will dim the lights in the living room, lock my doors, turn on Netflix and set the temperature to a comfortable degree.It's like having an assistant at home for free.
Are you tired of carrying your phone everywhere you go in your home, in order to adjust the temperature? Now you don't have to put your password in your phone, click the app for the thermostat, scroll down to temperature adjustments. Voice recognition is simply much better, faster and cooler than using your cell phone for automation.
We can confidently say it works as good as an Amazon Echo. This is a great value, the possibilities are endless here.
Accessory support (Humidifier, dehumidifier, ventilator, ERV, HRV)
Lack of accessory support was the bane of smart thermostats. How smart is a thermostat if it can't control accessories that old(dumb) thermostats can. Well, if you were hesitant about buying a smart thermostat because of lack accessory control, worry no more. Ecobee4 updated its accessory support. It now works with your humidifier, dehumidifier, ventilator, ERV, and HRV.
This sets Ecobee4 as the front runner in smart thermostat technology. The internet is filled with complaints by costumers about the lack of humidifier support for example. Now we won't have to get rid of our old accessories after installing a smart thermostat.
These are all great additions to the existing Ecobee thermostats.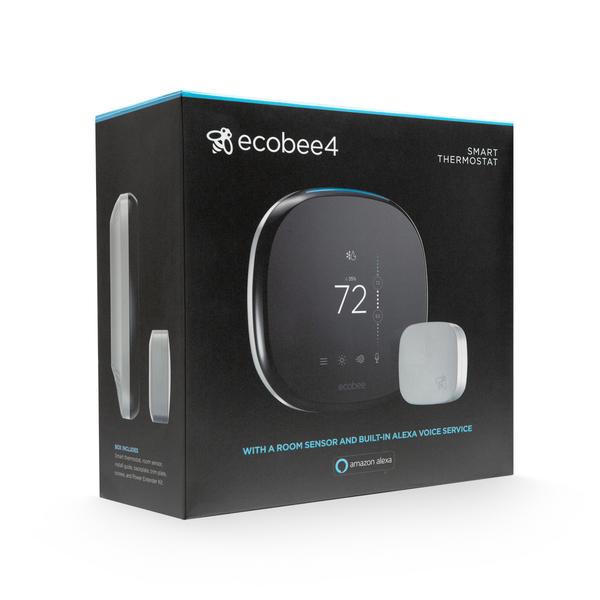 What's in the Ecobee4 Box?
The Ecobee4 comes with an extra common wire in the box. Some system might not have a common wire installed, this is a very nice touch by Ecobee4, it shows that they spent the time to figure out what's most common problems with installation. Installation guide, an extra sensor with a plastic stand, screws, extender kit, thermostat and back plate came out of the box. Lots of extra items here compare to other thermostats we reviewed.
The backplate has a nice leveling tool attached to it, another thoughtful addition to the installation process. Ecobee4 goes far and beyond to turn the installation process as easy as possible.
Box Contents:
ecobee4 thermostat
ecobee4 mounting plate
Room sensor with detachable stand
Install guide
Room sensor manual
Wire labels
Voice cards
Screws and drywall plugs
Optional for installation: Power Extender Kit (PEK) and Trim Plate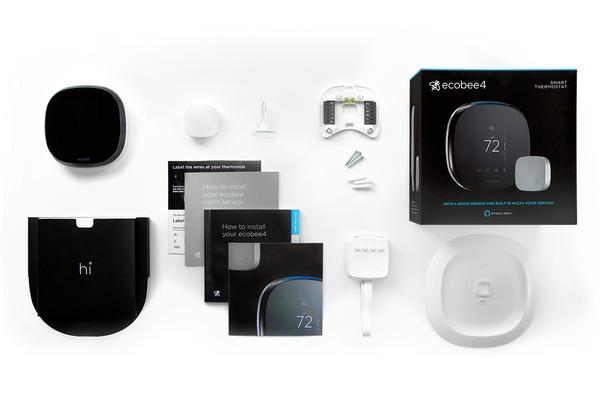 For homes with humidifiers, ecobee4 regulates indoor humidity because when it's too cold outside and high humidity indoor your winds build frost. The Ecobee4 thermostat has a touchscreen and black exterior in front and a white matching mounting plate on the back.
Pros
Homekit
Touch Screen
Local Weather
Remote sensors
Geofencing
Apple Watch app
Homekit is huge, being able to control everything with your cell phone especially if you want to control smart things in your home from far away, this is fantastic. It also has a touchscreen which I do prefer to the wheel kind of motion of the Nest. Local weather, it will let me know if it's raining or chance of rain without actually having to check your phone like you normally would.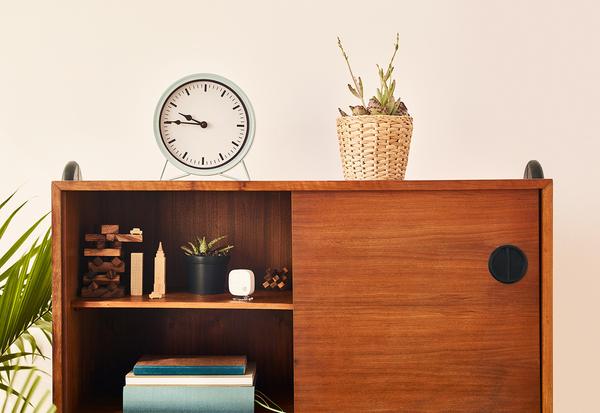 Remote sensors are also nice because they give you a better gauge of temperature as well as whether or not people are home. Nest does this similarly using the Nest Protect smoke detectors, but those really expensive and you don't need to get extra smoke detectors in your house when you already have them.
Geofencing is a feature of HomeKit, when you arrive or leave your home it can set different scenes and it will change the thermostat appropriately. Apple watch app is great as well, which we know the Nest does not have. You have to use third party option for Nest. If you don't want to use your voice or can't you can do it on your Apple watch.
Being able to set your thermostat temperature on the way home is great. For example, you are going to the beach for the day and on the way back you want your house temperature to be cool of warm. You can set it up using your phone and your house will be comfy when you get there. It's like having a friend at home to call and ask to do something.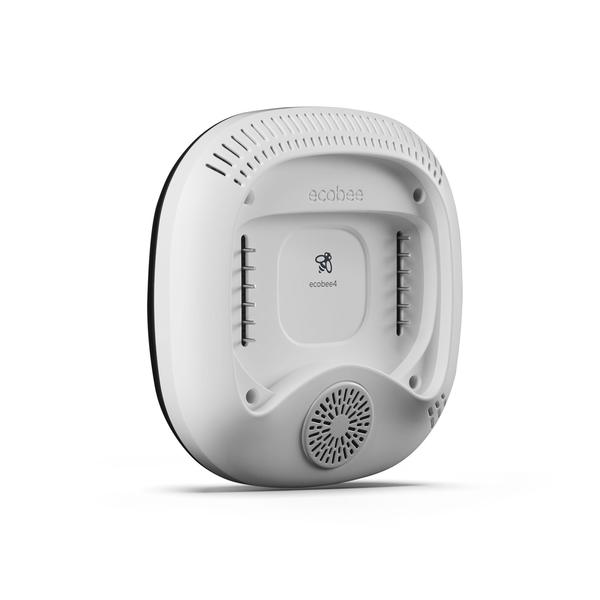 Cons
Plastic
Long Installation
Only 1 sensor in the box
Screen resolution
While our list of pros as long in our Ecobee4 Review, we do have a small list of cons. The first one is made out of plastic. Nest is metal and glass and looks very premium, Ecobee also looks nice but it is made of plastic comparatively.
The installation is a little bit more difficult than Nest, but both of them are easy for someone like me who has little DIY skills and they both you offer professional installation. Sensors can be a little bit pricey if you're going to put those in every single room of your house.
During the installation, if your temperature and humidity settings are off, you can adjust the temperature from the menu using offsets. Might be worth have another sensor in the same room to see how much it's off by. You'll also want to make sure it's CONSISTENTLY reading off. It's it's only reading off occasionally like then the heating/cooling is running, then it's probably picking up a draft from somewhere. Either a vent or return that's close by or a draft from the inside of the wall.If the problem persists, you should plug the hole with plumber's putty, because that might be causing a drift.
The screen resolution is not quite up to park. There's nothing wrong with it. It works and looks fine and that's what you'd expect from a device like this, but we do wish it would be a bit higher.
There are also other problems related to ESP(Echo Spatial Perception) as well. If you have an Amazon Echo placed too close to your Ecobee4, they might both answer at the same time. This problem is not there if you only had an Ecobee3 and an Echo Dot. If you already have Echo Dot in the house, you can use Push to Talk mode until Ecobee4 updates the software of Amazon lets third party software utilize the ESP technology.
This explains why Ecobee4 took so long to integrate Alexa into Ecobee4, Ecobee CEO Stuart Lombard said that they had to redesign the physical voice capture part of the system. Amazon is letting third parties use Alexa but they(third parties) have to develop their own wake word recognition, noise canceling and ESP. No data is sent to Amazon server until the wake word is detected. ESP might never work Ecobee4 unless you change the wake word on your device.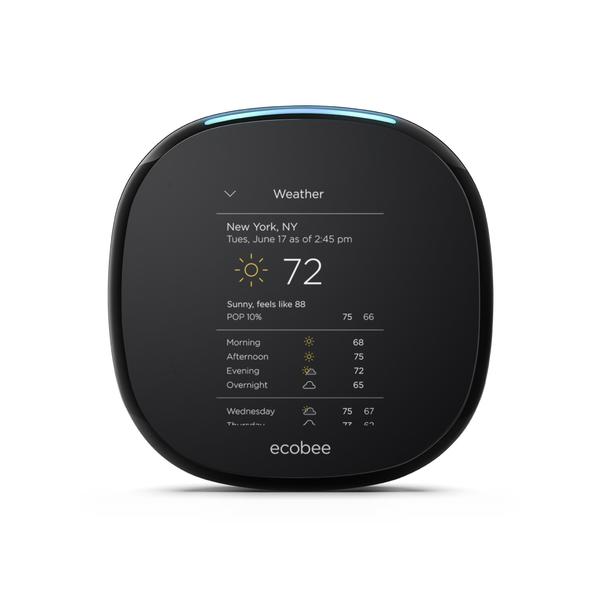 Energy Savings with Ecobee4
Your normal thermostat won't save you money unless you really try it. Ecobee4, on the other hand, will save you money even you don't do anything extra. We compared our heating bill to last year. For the same 3-month period during winter we saved over 100 dollars in heating costs. Independent studies confirm our experience with smart thermostats. Ecobee claims their thermostat save 23% in average on energy bills.
But what about the peer reviewed studies about smart thermostat savings? Two independent studies performed by utilities in Indiana, and a study of heat pump homes by the Energy Trust of Oregon had similar results. The measured energy savings were quite consistent across studies. Heating savings ranged from 10% to 13% of heating use and electric savings ranged from 14%-18% of cooling use.This means Ecobee4 will pay itself in 2 years if you have a regular old thermostat.You can check the current price on Amazon by clicking here.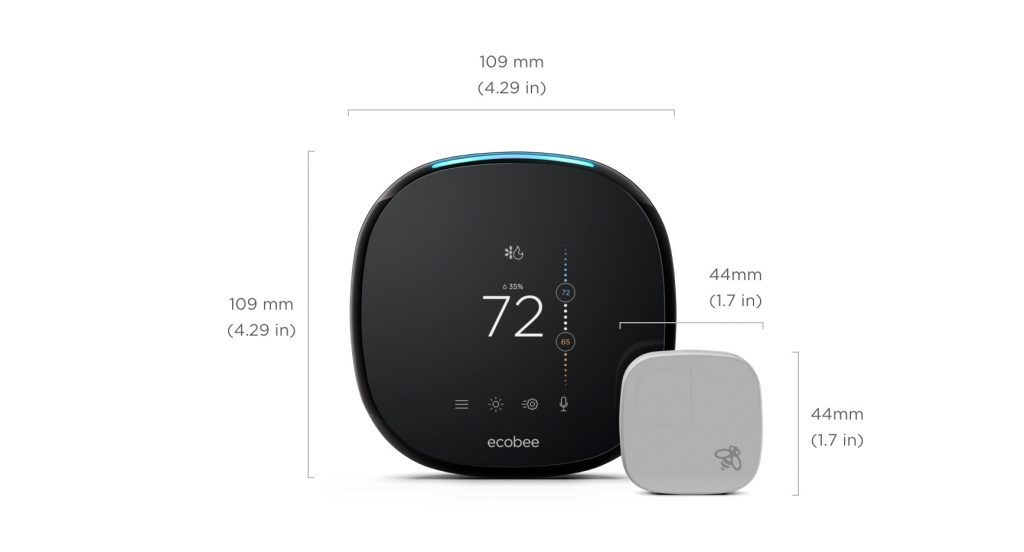 Technical details
Most of the technical details of Ecobee4 are the same compared to Ecobee3 from outside. But what's inside changed drastically. It has a 3.5″ full-color LCD touch screen Display 320 x 480 pixel. You can see the product dimensions in above picture. Ecobee4 Thermostat sensors can detect Temperature, Humidity, Occupancy and Proximity. For Alexa Voice Service, Ecobee4 have built-in microphones, speaker, Far-field voice recognition and Sensory TrulyHandsfree™ Wake Word engine.
The smart thermostat is compatible with Gas, oil, electric, dual fuel, and also works with Conventional (2H/2C), Heat Pump (4H/2C), Humidifier, Dehumidifier, Ventilator, HRV or ERV. Ecobee4 has wire terminals for Rc, G, Y1, Y2, O/B, PEK, Rh C, W1, W2, ACC-, ACC +. It connects to your wifi using IEEE 802.11 b/g/n @ 2.4 GHz. It also has Wi-Fi Protected Access (WPA/WPA2) and Wired Equivalent Privacy (WEP)DHCP (dynamic) or static IP addressing and Transport Layer Security (TLS) 915MHz.
Your Ecobee4 will spend 15+ MB/month in bandwidth, in case you are still on metered internet service(dependent on Alexa Voice Service usage). Power consumption is less than 3.5 VA, which is average for smart thermostats. Ecobee4 works with Apple Homekit, Amazon Alexa, Samsung SmartThings, IFTTT and more.The thermostat is wired 24 VAC through terminals C and Rc. Power Extender Kit enables you to reliably power your thermostat without having to run the fifth wire.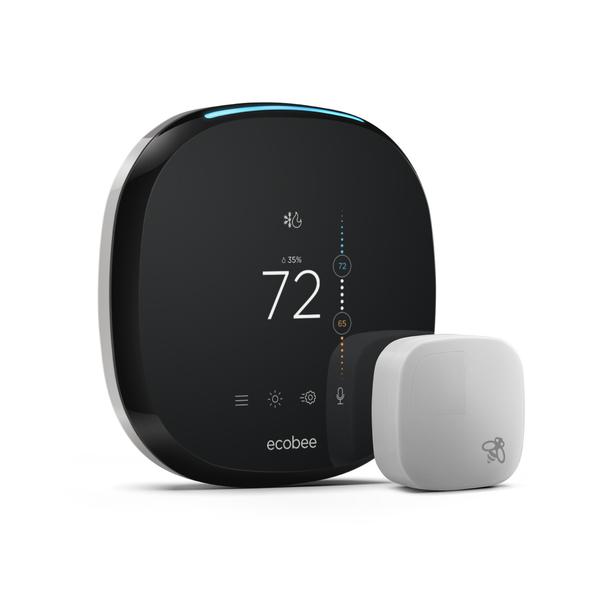 Ecobee4 helps to lower your carbon footprint
Ecobee is the best among smart thermostat makers when it comes to environmental awareness. It has Recyclable packaging, Mercury-free, Arsenic-free, PVC-free, and ROHS compliant. You will lower your carbon footprint by 4500 kg/CO2. This is almost 5% of your annual carbon footprint.
But they are not perfect. We wish it came with a return envelope to return our old mercury thermostat. Check out Thermostat Recycling Corporation to finding a location near you.
It has a Desired Temperature range: 45° to 92°F(7° to 33°C) with Display range 40° to 100°F (5° to 37°C) Sensitivity range: +/- 1°F (+/- 0.5°C) Operating range: 32° to 130°F (0° to 55°C). Humidity range for Display is 20% to 90%, with RH Sensitivity: +/- 5% and RH Operating: 5% to 95% RH (non-condensing)
Ecobee4 is should be stored at  -31° to 113°F (-35° to 45°C) 5% to 95% RH (non-condensing). The new Ecobee4 has an industry standard 3-year warranty, but we think it should work for much longer than the warranty. Ecobee4 is only available in English.
Ecobee3 prices just went down with the news of the Ecobee4 release, check out Ecobee3 Review here if you want a budget option, or don't want Amazon Alexa at home.