Newest Thermostat in Market
Price

Installation

Design

Interface

Warranty
Final Verdict
Honeywell Lyric T5  Review:
New Honeywell Lyric T5 is smarter
The latest entry to our list WiFi thermostat is Honeywell Lyric T5 released in October 2016. The new Lyric has a new rectangular design. The company decided to ditch the problematic round design and went with something similar to their flagship models. It comes with new sets of features like Location Based Temperature Control (Geofencing), Smart Alerts and Auto Change from heat to cool. What sets this model apart is also that it works with Apple Home Kit and Amazon Echo. It has a Touchscreen display just like other flagship models but different than older Lyric models. With the new dimensions of 4 x 7 x 7.1 inches, it's bigger than old lyric but smaller than other touchscreen models in their catalog.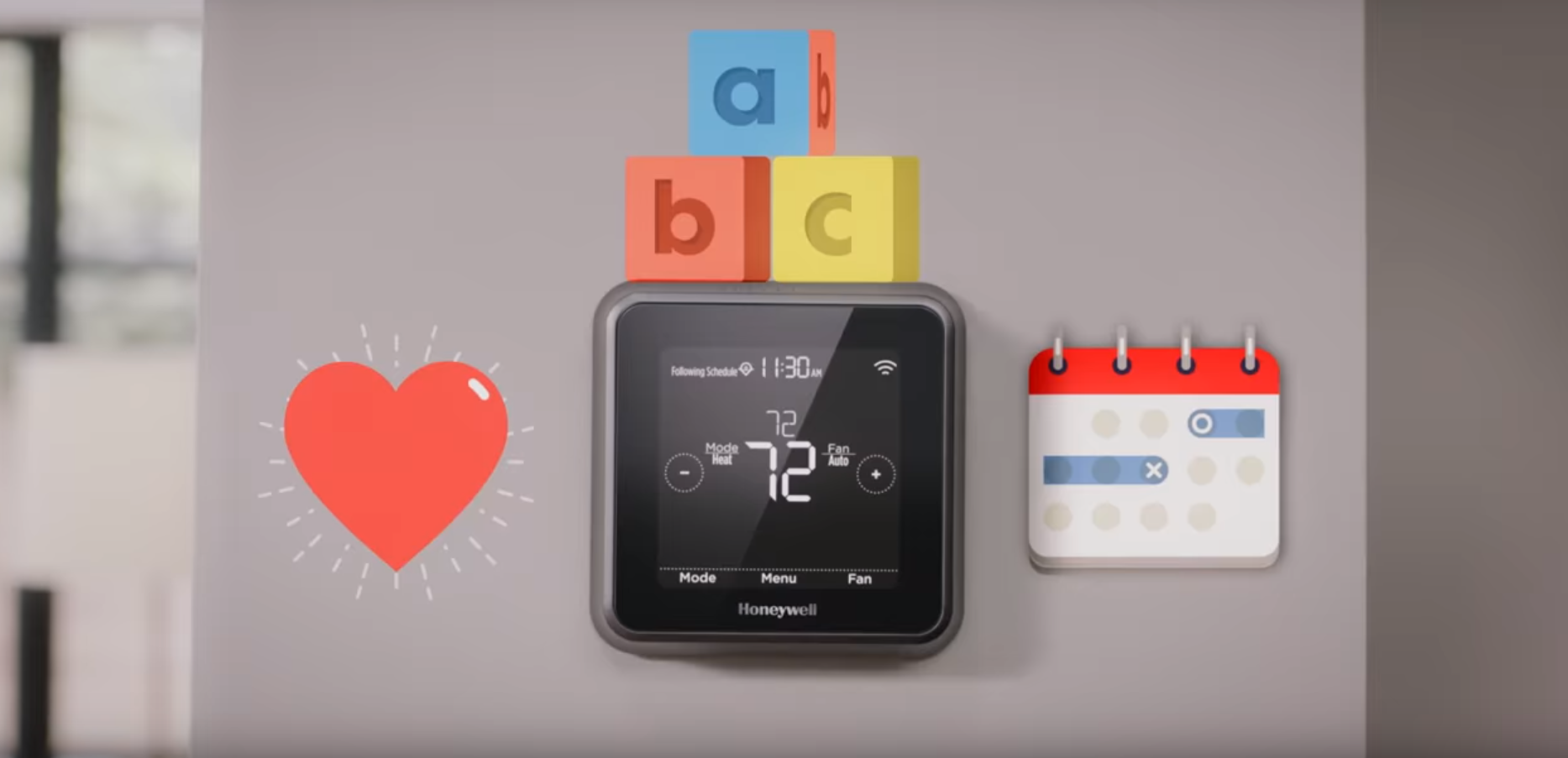 Honeywell says Apple watch support will be available in 2017. This is the first Honeywell thermostat with a better programming inside. It looks like they finally figured out what's missing in the old Lyric and replaced with a better algorithm.  It is smarter than all other Honeywell products.
The installation was a breeze, it's on par with Emerson Sensi at this point how easy the installation was. The videos and app instructions did not miss any details at all. I like these improvements.
Lyric T5 supports Amazon Alexa and Stringify
The fact that it also supports  Stringify is great news as well. Stringify is an app that connects other smart devices to each other. You can voice order multiple actions, for example, you can say "Netflix and chill" and your house will turn on Netflix, dim the lights and close the drapes, set the temperature to your desired settings. It works with all Amazon Alexa-enabled devices as well, there are thousands of great gadgets on Amazon Alexa list to fit here but the combination of things you can do are endless.
I made a call to Honeywell with typical questions I asked other companies, I run this test for all reviews. They were very knowledgeable, they knew how to connect a very complicated dual system to this thermostat. I also made up a wire shorting event, and they passed with flying colors. Their phone support team is miles ahead of the competition.
Lyric T5 a lot cheaper
Off course, all these features also come with Nest or Ecobee3, but with one huge difference. The price is a lot cheaper than its competitors. Honeywell is the biggest thermostat company in the world with 110 years of history, and they have money to burn to destroy the competition. Honeywell is as American as apple pie some say, even the Nest circular design was a copy of the original Honeywell thermostat from old days. The knows ins and outs of HVAC systems better than other companies.
The price they have chosen to sell the product is surprisingly low when you add the fact that it works with Amazon echo and Apple Homekit. They outsourced the software in some ways by integrating these two home management software. I think the price alone makes this thermostat contender for best WiFi thermostat in the market. I like the new design a lot, it looks stylish and matches most wall colors.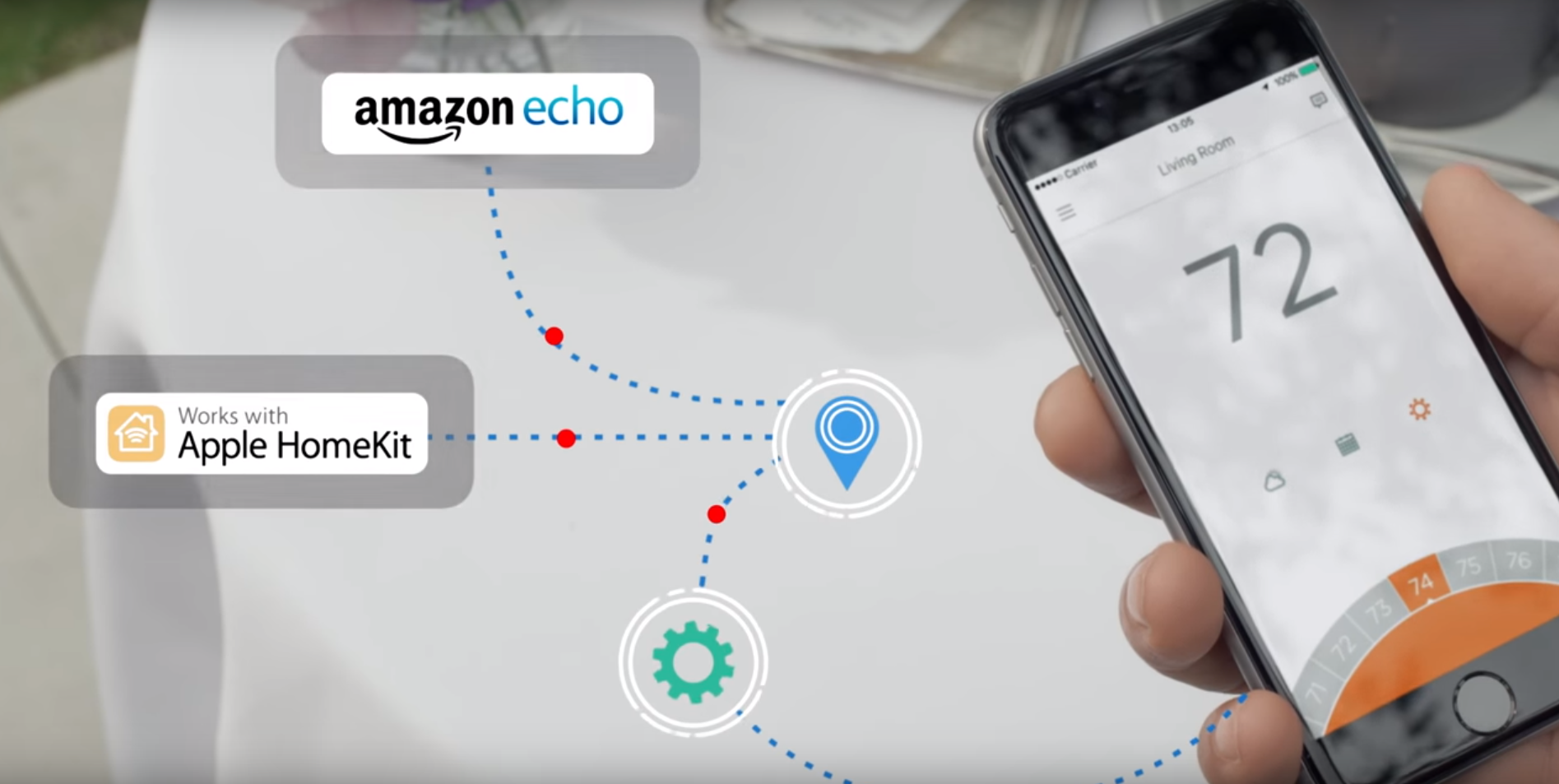 Honeywell Lyric T5 can detect leaks in your system and they have numerous security products that work with the thermostat. Lyric T5 is a learning thermostat like the competition, but it also has a fixed 7-day schedule setup as well which some prefer to sometimes frustrating computer-generated settings. After all, not everyone wants to be told by a thermostat what temperature is comfortable. You might say "Thank you thermostat I have all 5 senses working fine, I can feel the temperature I don't want you to decide for me.", and Lyric T5 lets you do that much easier than other "smart" thermostats.
Lyric T5 and Apple Homekit
If you like Honeywell as a brand and want to use Apple Homekit and AmazonEcho, this is the wifi thermostat for you.The integration is very simple, you click the "Global Drawer" option on Lyric app and  select Lyric T5, your thermostat displays a number and you enter it.  You are now connected to Apple Homekit and can voice order your Lyric T5 to set the temperatures. You need to have C wire installed for Apple Homekit to work because connecting to Apple Homekit requires it. The Homekit has some problems tho, Siri sometimes has difficulty giving orders to Lyric. But this is something Apple should fix or they have to work together to fix this problem.
 
Lyric T5 provides extra comfort with Geofencing
"Geofence" is short for geographic fence. Image having a fence around your house. With geofence, you have a virtual fence around an area you choose. Cell phone operating systems can set up geofences using GPS. When you cross this virtual fence with your cell phone in your pocket, a geofence can send a signal to a software that the user has crossed a fence. The signal has no information other than that you crossed a geofence. Meaning your privacy is secure.
When Lyric T5 gets the signal that you crossed a geofence, it will start adjusting the temperature in your house. I love walking into a warm house during winter or cool one during summer. I also end up wasting less money because the HVAC is not running when I am not home. I am also lowering my carbon footprint by a large margin this way.
Lyric T5 can have multiple users
There is also a multiuser function with Lyric T5, you can add multiple people in the Users menu option. This way Lyric T5 can detect other users coming or leaving the house to set the temperature accordingly.
The setup is very easy; you just add a new user from the menu by typing in their email address. They get an email to download the app and you are set. Be careful, though, all individuals with access to a thermostat share the same user privileges. Meaning if you add your son, he will be able to change the thermostat's settings, as well as add or delete other users.
How to set schedules with Lyric t5
There are 4 different options of scheduling with Lyric t5
Location-Based scheduling: This is geofencing based scheduling. Lyric t5 will activate the schedule when you are close to your home and turn it off when you leave the house.
Time-Based Scheduling: Just like a normal programmable thermostat you can set up different schedules for every day of the week. You can set 4 different temperatures for every day.
Smart Scheduling: This is a mixture of Location-Based scheduling and Time-Based Scheduling
No scheduling: This turns the thermostat into manual mode. You have to set the temperature to your liking every time you need to heat or cool the house.
Final Verdict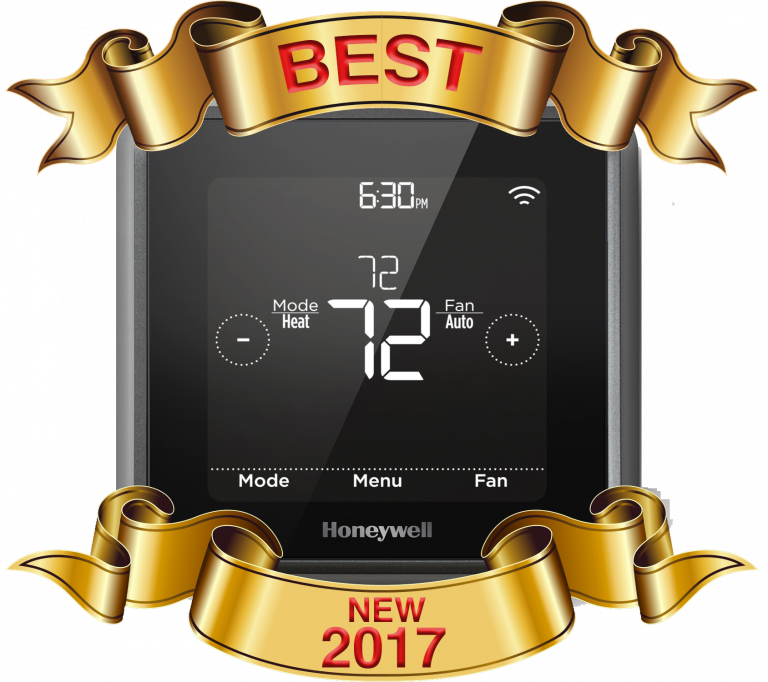 We still have to wait and see how it will compare to the other thermostats in the market. The product is very new in the market, there are no Amazon reviews about it, at the time this article was written. Lyric 4's reputation was not great compared to the other WiFi thermostats in the market. It will be an uphill battle for Honeywell. They should have changed the name and introduced it as a new device since it's nothing like the old Lyric. Honeywell did a great job at building a very nice device but their marketing is as bad as it used to be. For example, if you go to their website, the dimensions of the product listed differently than the real dimensions of the product. Perhaps they trust in their product and spent so much time developing it, they forget about the marketing budget.
In conclusion, the thermostat will pay itself in 2 years average with utility bill savings, so the price is great. The design has the classic and familiar Honeywell feel. The app and the interface are very easy to understand and operate. The installation videos and materials are unmatched in the market. Every HVAC professional is an expert about Honeywell, in case you need help with anything. It works with tons of other smart home devices and management systems. Honeywell Lyric T5 gets our seal of approval, go ahead and buy it for yourself or as a gift to those you love.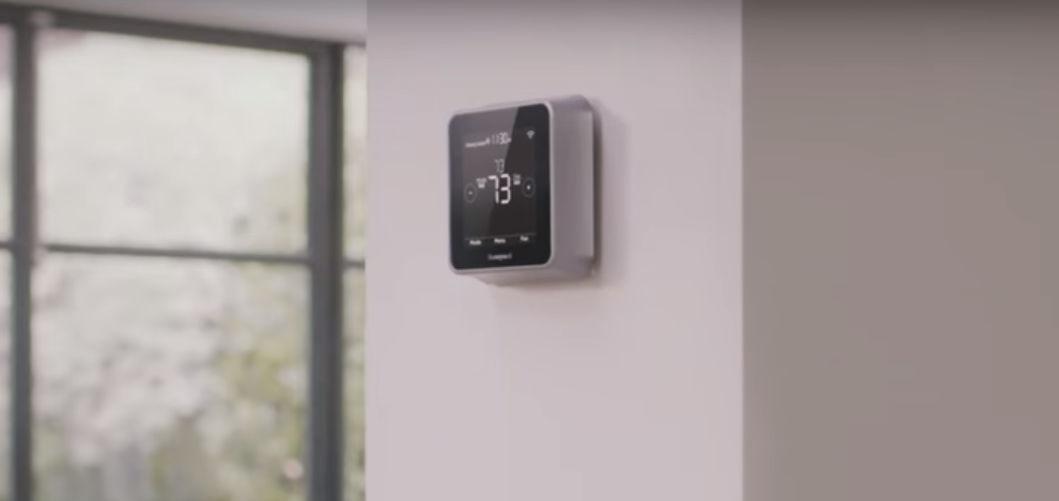 What is the difference between Lyric T5 & Lyric T6?
A common question that's been asked around a lot is What is the difference between Lyric T6 and Lyric T5. Is Lyric T6 the newer model? The answer is simply no, Lyric T6 is the professionally installed version of Lyric T5. There is no difference in between them. Honeywell does this with other products as well, they have different names for professionally installed products and the retail version that you install yourself.