Sensi Touch
Price

Installation

Design

Interface

Warranty
Summary
Sensi Touch by Emerson is a very solid choice for a first new smart thermostat. It will also make the perfect gift if you want to help others lower their electric bill carbon footprint.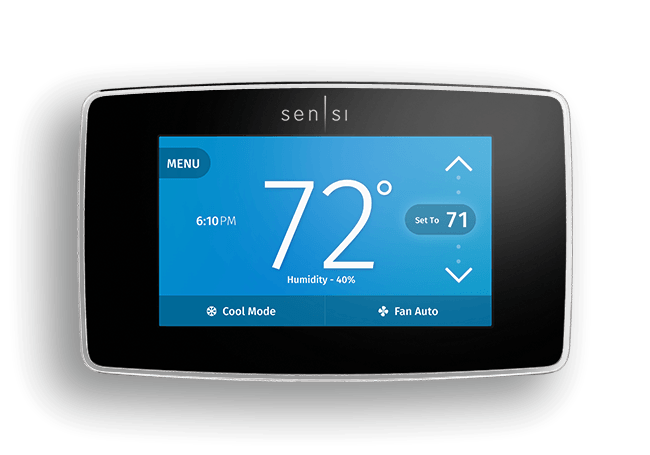 The best user-friendly Smart thermostat of 2016 Emerson Sensi just got a new touch up, Sensi Touch review is the new version of easy to install smart thermostat from Emerson. The release date is June 2017, have been announced by Emerson in Businesswire. We reviewed the new Sensi Touch for new smart thermostat owners and experienced users alike. We also compared the new Emerson Sensi Touch to other major smart thermostat models in the market, like Ecobee4 and Nest. The price is subject to change, depending on current promotions, Click the following link to check the current price. Emerson Sensi Touch review will answer all the questions about the latest smart thermostat in the market.
What's new with Emerson Sensi Touch?
You can guess from the new name that, Sensi Touch has an upgraded design, a touch screen. The new touch screen is colored, is very modern and cool design compared to the old model.
The new and enchanted Smart alerts tell you when extreme Temperature or humidity changes are detected. For example, we forgot a window open last month, the app alerted me that the temperature at home is low.  This alert right here saved me a few bucks right away.
Color shift option is a very nice addition to the thermostat.  App and thermostat change color to let you know at a glance whether your system is heating or cooling. It turns blue when its cooling and turns orange when it's heating. This is very similar to the Nest thermostat.
The new screen and thermostat have a Back glow, this is perfect for night time or low lighting.
Sensi Touch comes with Humidity reading thanks to new humidity sensors. It tracks humidity for total awareness of your home's atmosphere just like Ecobee4.
You can always adjust the brightness of the new screen, the large backlit display offers flexible lighting options.

The biggest addition to the new Sensi Touch is the ability to use Apple Homekit, Amazon Echo and Wink apps.
What makes Emerson Sensi Touch Unique?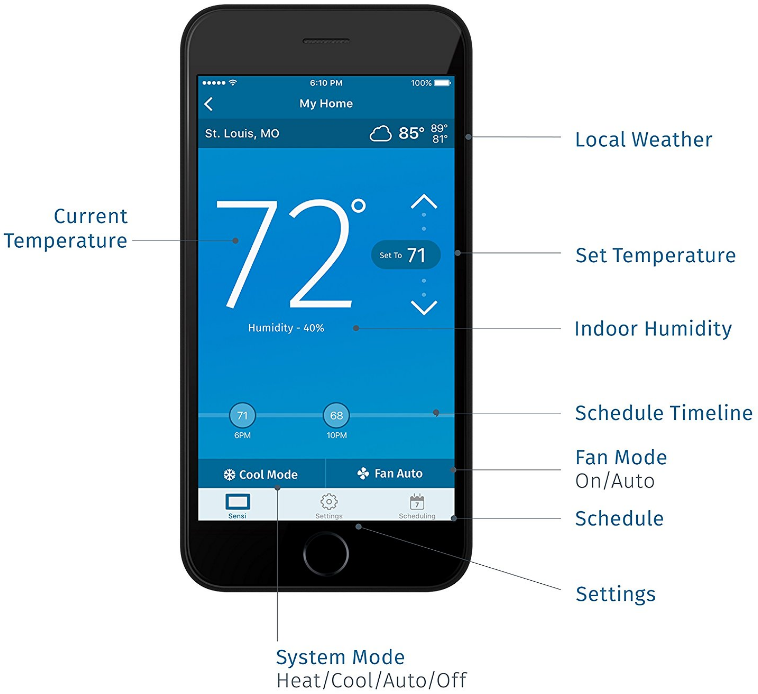 Emerson Sensi Touch is the latest smart thermostat release, with release date June 2017. It has the latest software and hardware among smart thermostats in the market.
When it comes to Emerson, you have to mention the company trust and history. Emerson was founded in 1890 in St. Louis, Missouri, as a manufacturer of electric motors and fans. Over the past 100-plus years, Emerson has grown from a regional manufacturer into a global technology solutions powerhouse. In an industry where the leader is only 10 years old(Nest), a 127-year-old company makes you feel safe. You know that you will be taken care of if things go wrong.
What sets Emerson Sensi Touch apart from the competition is how easy to install and operate this smart thermostat. It's the perfect gift to someone who has never had a smart device at home. The installation process is the best in the industry, from the videos to the app for the thermostats, everything is just intuitive. The buttons are right where you would want them to be. The explanations in the videos are simple enough to be understood by anyone. It had the fastest reaction time to voice and orders touch orders from app.
And the app for the thermostat deserves another thumbs up. It has a simple but smart design, that surpasses any other thermostat app we tested. Creating a new schedule never been easier compared to Nest or Ecobee4.
No wonder why Sensi by Emerson received the highest numerical score among four brands in the J.D. Power 2016 Smart Thermostat Satisfaction Report, based on 2,509 total responses, measuring the opinions of customers who purchased a smart thermostat in the previous 12 months, surveyed September 2016. It is the best smart thermostat when it comes to consumer satisfaction and ease of use.
Emerson Sensi Touch Best Features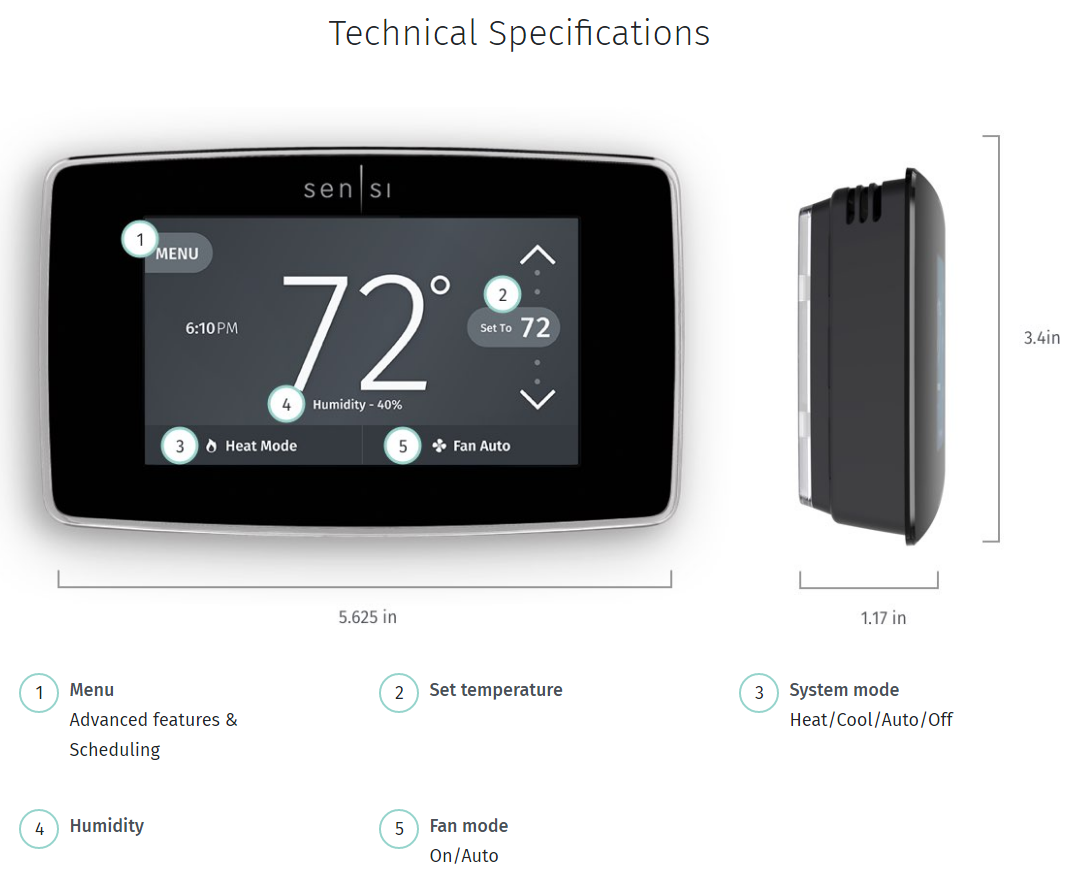 Emerson Sensi uses your smartphone's location to automatically adjust your thermostat. This is called Geofencing.
What is geofencing? Geofencing is setting an up virtual geographical fence around a location, usually your house or work, in order to automate predetermined actions for a program or app, when the smartphone crosses set fence. For example, you want your house lights to turn off when you leave the house, you simply set up as a circle around your house. And Voila, your home lights turn off when you cross the geofence. Very simple concept.
Native Geofencing makes Sensi Touch on par with Honeywell Lyric T5 and Ecobee4 when it comes to Geofencing capabilities. The benefits of having a native geofencing in the native app are the ability to activate commands quicker. Geofencing also helps with the smart scheduling part of the thermostats. It learns when you will be home and when you will leave in the morning and adjust the heating and cooling accordingly for maximizing comfort and savings.
Just like with any other smart thermostat, you get remote access to your thermostat. You can set, change and program your home comfort from anywhere.
With its Auto changeover feature, Emerson Sensi Touch automatically adjusts between heat and cool mode to keep you comfortable.
Setting up schedules and switching between them is as simple as clicking one button with Flexible scheduling. You can program a schedule for each day of the week that fits your lifestyle. For example, I don't work on Mondays, so I set up a different schedule for Saturday, Sunday and Monday and a different one for the rest of the week.
Keypad lockout is another great setting for all the dads out there. You can keep your perfect settings on lockdown by disabling changes from the thermostat. This also puts an ending to the needless family arguments about thermostat settings.
Final Verdict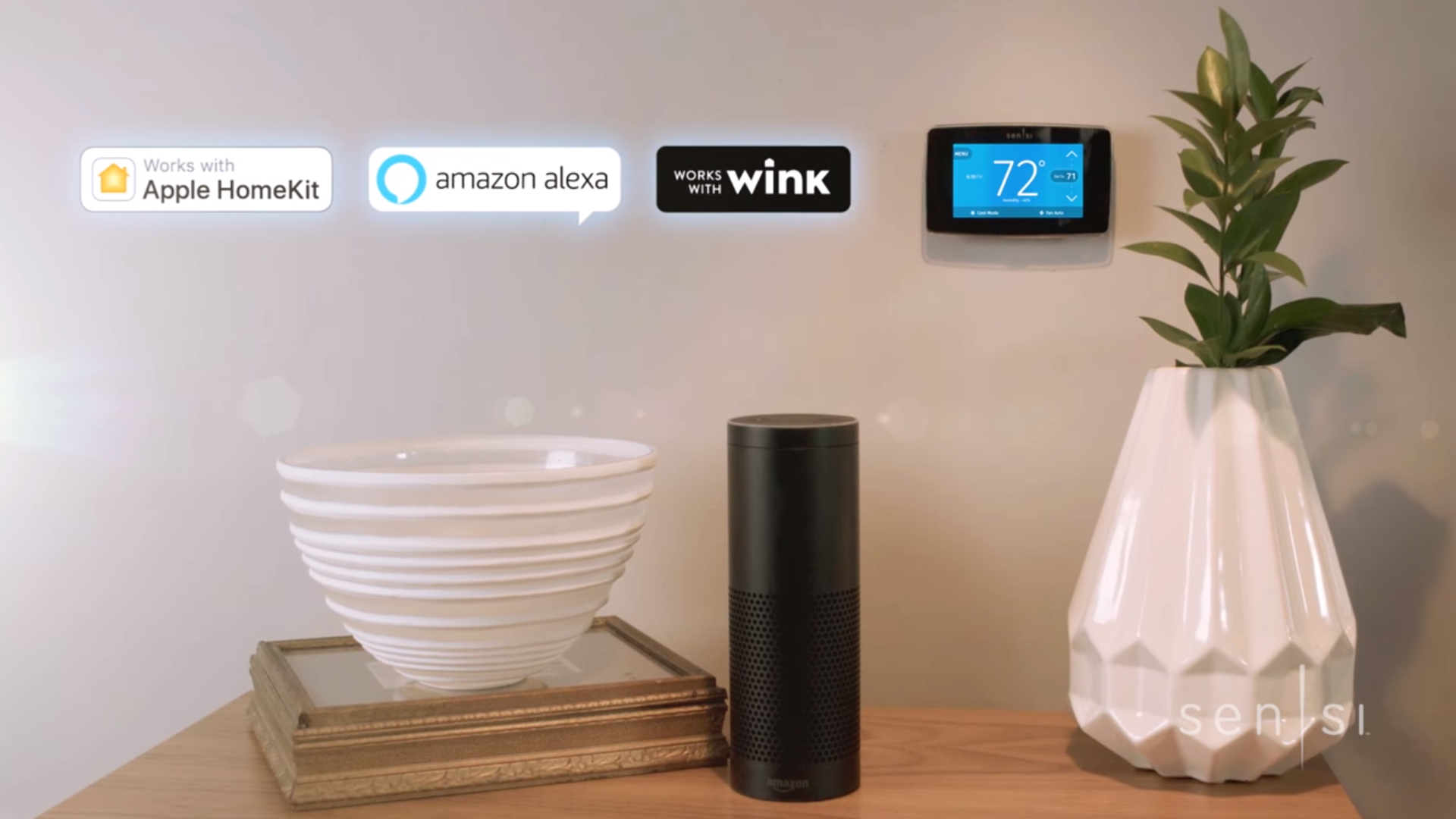 The new Sensi Touch by Emerson is a very solid choice for a first new smart thermostat. It will also make the perfect gift if you want to help others lower their electric bill carbon footprint. According to our detailed cross-study result, a smart thermostat will lower your energy consumption 15% to 18%.
Emerson Sensi comes with an industry standard 3-year warranty and we think this is too short for a device nailed to a wall. It should be at least 5 years if not more with lifetime software support.
But if you are more tech savvy person and have a bigger budget, you should go with something like Ecobee4. Ecobee4 was released on May 15, 2017, it is a better thermostat, but it's also more expensive. There is also a budget alternative to Sensi Touch Emerson, Ecobee3, which is at a discount at the moment.